GODS Crypto Price Prediction: Back Above $1
The GODS token is seeking to recapture its previous support level from earlier in 2022 by breaking out and closing a weekly candle above $1. This week the GODS price climbed past $1, reaching a high of $1.50.
The growingly popular token closed this week with a big bullish green candle, engulfing the previous few weeks of bearish price behavior, thanks to this week's 30% pump and Bitcoin's return to $30,000.
What is Gods Unchained (GODS)?
Gods Unchained is one of the recent ventures into blockchain and cryptocurrency for the gaming industry. It is a free-to-play online trading card game similar to Magic: The Gathering Arena.
Gods Unchained bills itself as a "pay-to-play" trading card game that is overturning the traditional model of gaming commerce, in which users have to buy both the game as well as in-game stuff without any prospects of selling them when needed.
Quite to the contrary, Gods Unchained offers non-fungible tokens (NFTs) created on the Ethereum network to grant players true ownership of cards and other assets they purchase in the game. The game's developers can neither adjust the value of cards, nor take them back from players because NFTs are immutable.
The native currency on the Gods Unchained platform is the ERC-20 token GODS, which can be used to manufacture NFTs and make in-game purchases. Besides, GODS tokens also have their own value, having recently been offered for purchase and trading on the Bitstamp platform in April 2022.
How Does Gods Unchained Work?
Created by brothers James and Robbie Ferguson, Gods Unchained allows players to acquire the native GODS token and use it as a payment option in the game. Players can use the game's marketplace to acquire and sell cards.
Their goal must be to outsmart opponents by constructing formidable decks using purchased cards and employing combat techniques. These cards can later be sold for GODS tokens, which in turn can be converted into fiat currency.
Simply put, players have more incentive in this gaming model to have complete ownership over the assets they purchase and collect over time and can choose to sell them when they want to bag profits.
What Makes Gods Unchained Unique?
Gods Unchained is a free-to-play competitive trading card game that compensates you for playing, and it is one of the largest crypto and blockchain initiatives towards this vision. Through this unique approach, it addresses one of the gaming industry's most common problems: gamers spending thousands of dollars on in-game assets for no return.
Also because Gods Unchained mints goods as NFTs on the Ethereum layer 2 network, holding one of these cards means owning a valuable digital asset. This is a refreshing addition to the gaming space worldwide.
Buy Gods Unchained Token Now
Your capital is at risk.
The GODS Token
The GODS token is an ERC-20 token that can be used to purchase and sell on the market, produce NFTs, and earn incentives. A total of 500 million GODS tokens were made available for distribution among the game, user wallets, developers, and public sales.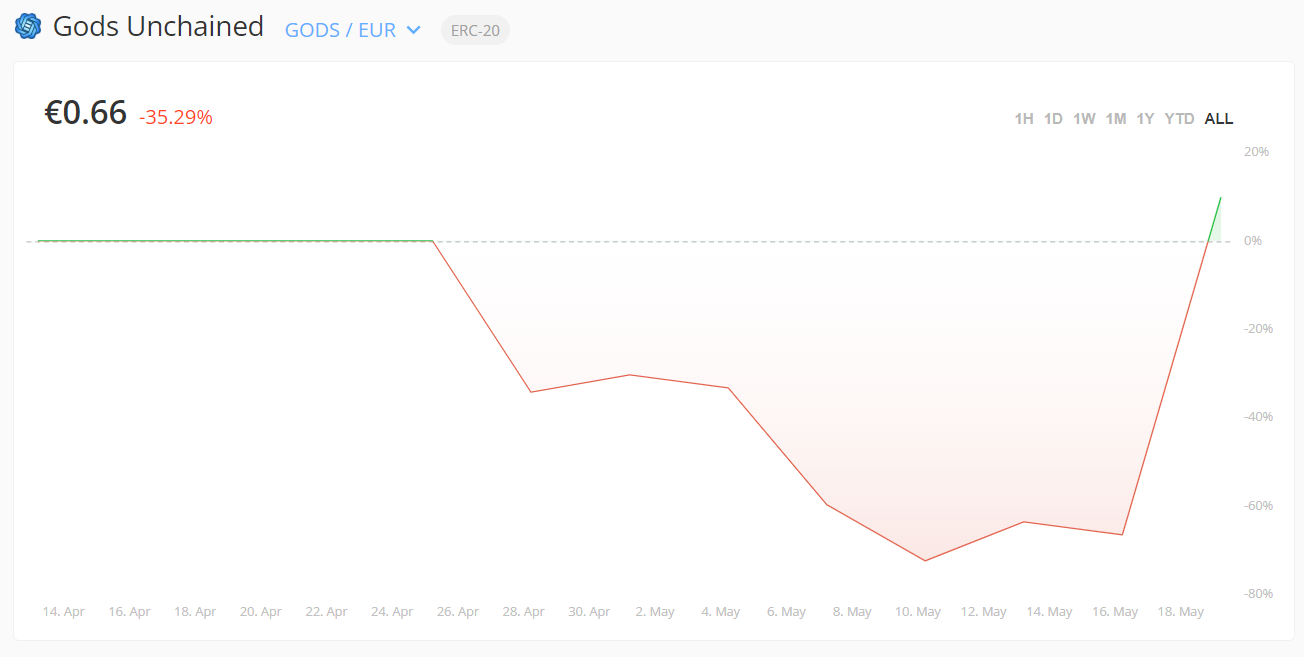 Gods Unchained Chart on Bitstamp
Players can keep their GODS tokens and NFT cards in a web 3.0 wallet like MetaMask. On the platform, GODS also serves as a governance token. Players can have the opportunity to vote on topics that may affect the game's development, making it a genuinely community-driven initiative.

GODS Crypto Price Prediction
GODS coin has already retraced roughly 97.5 percent from its all-time high of $8.9 in December 2021 to its 2022 low of $0.22. Since the $69,000 and $4,800 marks, BTC and ETH have been in a bear market, contributing significantly to the fall.
Bullish Case for GODS over the Past Period
When they're hot and popular with players, play-to-earn cryptos have shown they can decouple from Bitcoin and go on explosive bull runs, as Axie Infinity (AXS) demonstrated with a 1660x bull run in 2021.
P2E and NFT-related coins like APE and GMT outpaced the rest of the crypto market last month before correcting — primarily due to panic selling in response to the Terra (LUNA) crash and Tether FUD. Take for instance the Lucky Block (LBLOCK), a crypto gaming platform, which was one of the greatest gainers last week, with a 90 percent intraday price increase.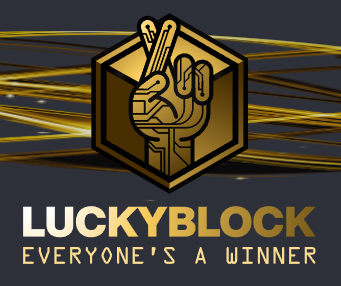 LuckyBlock Platform and its token are backed by solid fundamentals 
That raises the question of whether the GODS token will follow suit, and what its trajectory will be in 2022. Even if there is more fall ahead, in the immediate term, it could see some mean reversion and retest the $2 range, which would be quadruple its present price.
On the weekly price chart, the GODs price has been above the diagonal trendline last week. The market cap of GODS is only $22 million, placing it at #604 on Coinmarketcap. However, it is worth noting that low-cap cryptos can pump more easily than mid-caps.
Technical Analysis
GODS has been surging since their statement that royalty fees would be added to Gods Unchained NFTs placed on OpenSea and other secondary NFT marketplaces.
The developers have also indicated that a portion of the earnings would go to the GODS staking pool. This increases the incentive to buy and stake GODS and contributes to the long-term sustainability of the GODS ecosystem.
The Gods Unchained game is backed by Coinbase, Galaxy Digital, Nirvana Capital, and other venture capital firms, so it's not going anywhere anytime soon. According to the website, there are already over 307 million players on the platform.
Gods Unchained is an intriguing crypto gaming and NFT project that you can learn more about on godsunchained.com, along with $GODS tokenomics and how the token works with the Layer-2 Immutable X blockchain. For your information, Immutable X (IMX) is another Bitstamp coin that has gained over 10% this week.
Bearish Case for GODS
Only 5% of the GODS in circulation have been unlocked. Out of a total amount of 500 million GODS tokens, 23.6 million are in circulation this week.
Because the price of Gods Unchained has been in a clear bear cycle for about six months, traders may wish to 'wait for confirmation,' which in this case would require many weekly candle closes above the $1 support level, as well as a green monthly candle closure in May 2022. Then, for the rest of the year, a continuation to the upward is more plausible.
If past support is converted into new resistance, the GODS pump this week might be a short squeeze and end up as a bearish retest of the $1 level. It had already witnessed a pump in 2021, if we are to retrace patterns.
The Best Place to Buy GODS Today
Already on the radars of several crypto gaming enthusiasts, Gods Unchained has garnered much popularity and game viewership in a short span of time. With a revolutionary play-to-earn concept that allows players to earn money in a virtual economy, it is genuinely revolutionizing the industry.
The leading and in-demand commodity, the Gods Unchained token is already listed at several top crypto exchanges, including:
While the token is not yet available on eToro or Binance, some experts suggest this is all the more reason to purchase GODS, before its eToro and Binance listing pumps its value up. After all, GODS pumped to its current ATH a few months ago, in December 2021, immediately after its listing on Coinbase.
Lucky Block – Our Recommended Crypto of 2022
New Crypto Games Platform
Featured in Forbes, Nasdaq.com, Yahoo Finance
Worldwide Competitions with Play to Earn Rewards
LBLOCK Token Up 1000%+ From Presale
Listed on Pancakeswap, LBank
Free Tickets to Jackpot Prize Draws for Holders
Passive Income Rewards
10,000 NFTs Minted in 2022 – Now on NFTLaunchpad.com
$1 Million NFT Jackpot in May 2022
Cryptoassets are a highly volatile unregulated investment product. No UK or EU investor protection.