Bitcoin (BTC) on-Chain Analysis: Realized Loss Reaches ATH
Today's on-chain analysis looks at the Realized Loss indicators to determine what stage of a bear market bitcoin (BTC) price is at. Specifically, Realized Loss and Net Realized Profit/Loss.
The realized loss today is comparable to the absolute price lows of BTC in 2014 and 2018. Moreover, in some cases, these values have even been exceeded. This in turn suggests that it is possible that bitcoin has already reached a bottom or is very close to doing so.
BTC realized loss
Realized loss denotes the total loss (expressed in dollars) of all moved coins whose price at their last movement was higher than their price at their current movement.
In absolute numbers for this indicator, we see that the seven-day simple moving average (7D SMA) reached its second-highest level in history yesterday. It was only surpassed by the May 2021 crash, when bitcoin fell from the $59,000 level to a low of $30,000 in just a few days.
Although the current decline is not as steep – from $40,000 to $26,700 – the amount of realized loss is comparable.
Chart by Glassnode
On a long-term chart of realized loss, one can see another argument that on-chain data is signaling an impending bear market bottom. In a tweet yesterday, on-chain analyst @therationalroot published a chart of realized loss and profit relative to market capitalization.
He then marked a horizontal line (black) on it, around which the realized loss peaked at previous lows in the bitcoin price. It appears that the ongoing capitulation is comparable to investor behavior from the end of the bear market in December 2018, the COVID-19 crash in March 2020, and the aforementioned May 2021 decline.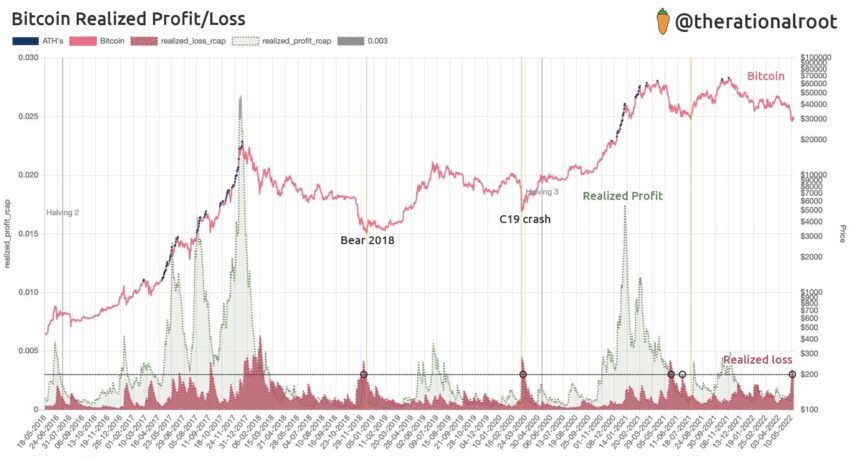 Source: Twitter
However, the analyst stresses that today's macro economic situation is different and there is a danger that the declines will continue. Therefore, he concludes by asking the question: "Will bitcoiners stand the test of time?"
BTC Net Realized Profit/Loss
Additional insight into bitcoin's market situation is provided by the related Net Realized Profit/Loss indicator. This is a chart of the net profit or loss of all moved coins, determined by the difference between realized profit and realized loss.
Looking at the long-term view of this indicator, we see that its 7D SMA just hit an all-time low (ATL) at -$1.28 billion. However, looking at historical data, this does not necessarily mean a bottom for the BTC price at all.
For example, the previous ATLs of Net Realized Profit/Loss were reached in Feb 2018 and May 2021 (blue circles). In both cases, they were caused by a sharp decline in the bitcoin price.
However, the price subsequently recorded lower levels, even though the indicator was no longer falling as low. Over a period of several months, a bullish divergence appeared (blue lines).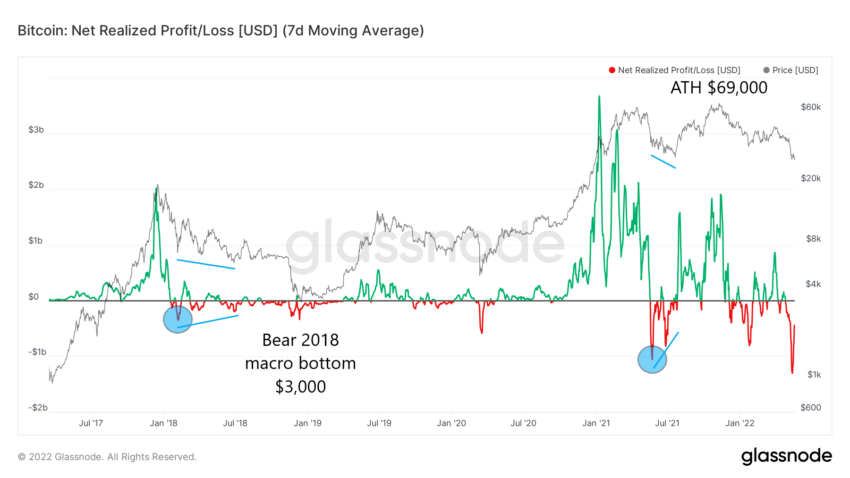 Chart by Glassnode
Moreover, such a bullish divergence only in the second case led to a significant bottom and a rise in the BTC price in July 2021 towards the new ATH. On the other hand, in June 2018, there was indeed a local bottom for bitcoin near $6,000. However, after a short-term uptrend, the price collapsed, reaching an absolute low near $3,000 in Dec 2018.
Two styles of realized loss: 2014 and 2018
Another popular cryptocurrency analyst @SwellCycle presented on Twitter a similar analogy with the previous bear market lows of 2014 and 2018. He showed how the realized loss (expressed in BTC, not USD) corresponded with the bottom of the bitcoin price in two ways.
At the end of the bear market in 2014, all it took was one wave to coincide with bitcoin's macro bottom. In contrast, in 2018, it was only the second wave of a realized loss that led to an absolute bottom in the BTC price. In today's market conditions, the first wave has just taken place.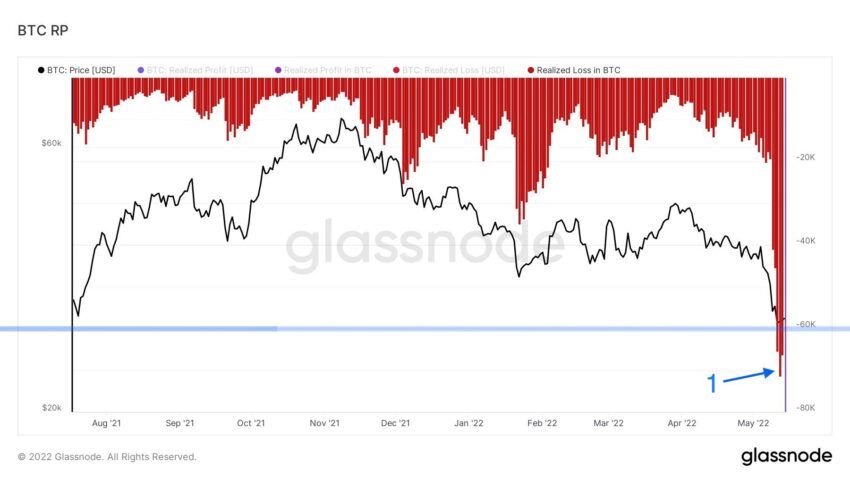 Source: Twitter
Are we in for a second wave and an even lower BTC price than $26,700? The analyst answers: "Taking a closer look, I'd say both 2014 and 2018 style outcomes have similar probability."
Thus, if the 2014 scenario were to repeat itself, the bitcoin price has already reached a bottom. However, if, similar to 2018, we are in for another wave of large market loss realizations, then BTC could dive south even further. The latter scenario is in line with the Net Realized Profit/Loss ratio, where we do not yet see a bullish divergence.
For Be[In]Crypto's latest Bitcoin (BTC) analysis, click here.
Disclaimer
All the information contained on our website is published in good faith and for general information purposes only. Any action the reader takes upon the information found on our website is strictly at their own risk.