Billy Markus Declined to Support Dogechain- Declined $14 million
Join Our Telegram channel to stay up to date on breaking news coverage
A Twitter user by the name of @RepeatAfterVee recently brought to attention that Billy Markus, one of the founders of the most renowned cryptocurrency Dogecoin, has declined an offer to promote Dogechain that would've helped him bank USD 14 million.
Dogechain is a new blockchain that bears with it the promise to make Dogecoin more useful, but so far, it's only managed to present disappointment. Debuted on August 23, it didn't take long for those tracing the distribution activity of the native token to regard it as a "pump and dump" scheme.
Buy Crypto on eToro Now
Dogechain The Idea
The Dogechain blockchain is built on Polygon Edge and allows users to bridge their Dogecoin to Dogechain, and receive an equal number of tokens.
Dogechain proposed the idea to use Dogecoin for NFTs, DeFi and other blockchain-related applications, along with making it compatible with Ethereum Smart Contracts. However, so far, it has failed to deliver and appears to be nothing more than a pump and dump scheme.
A suspicious wallet activity was observed by a Twitter user, who highlighted the wallets that purchased DC, the native token of Dogechain, before its public release. One wallet among these purchased 20B DC briefly before the launch and bridged 1B of these tokens to Ethereum.
Since then, the wallet has been swapping DC tokens for USDT every few minutes and so far has accumulated $200,000 worth of USDT. The wallet that deployed 20B DC received 50B DC on August 22. The details for the transaction can be seen here.
While the project may appear to be in association with the original Dogecoin, it's important for everyone to know that they share no official relationship. The only connection between the two is that Dogechain can be used to participate in Dogecoin for multiple blockchain-related applications.
The new chain isn't built on the existing Dogecoin blockchain either, it appears to be more like a layer-two network for the original chain.
The team of Dogechain is primarily anonymous and the Dogecoin foundation has denied any affiliation with the team. However, few people have made their involvement public, including the co-founder of Quickswarp, Roc Zacharias.
The Dogecoin community have been advised against investing in Dogechain and they're requested to not follow any statements that endorse Dogechain on behalf of Dogecoin, as they remain false. It's also believed that Dogechain is paying influencers to present the token as a valuable investment, and paying Markus was one such attempt.
Markus left the Dogecoin project soon after it was launched, and has stated to not share any current or future association with the project. However, he's highly talked about in the Dogecoin community.
This move by Markus is expected to make the community respect him more, as he's been recently accused of being a part of pump-and-dump schemes. But he doesn't want to disappoint the Doge community. He also highlighted that he did not become wealthy by creating Dogecoin
As an investor, if you're looking for meme coins to invest in, you should check out better options such as Tamadoge.
Tamadoge- Potential Dogecoin Competitor
The aspect of Dogechain bringing blockchain-related applications to Dogecoin was appealing as Dogecoin never had any inherent utility, apart from being a speculative asset. This is precisely the reason why Dogechain claimed to make Dogecoin "more useful now".
This trait is quite prevalent across meme coins, wherein they don't have much utility to offer. Tamadoge attempts to counteract this exact limitation that meme coins carry.
Tamadoge is a play-to-earn crypto token, wherein players can mint, breed and care for their Tamadoge pets. Once these pets are adults, they can participate in battles where the winners are rewarded with Dogepints and climb up the leaderboard. The players with the most Dogepoints will be rewarded in TAMA at the end of each month. These can be used to purchase items from the Tamadoge store as well.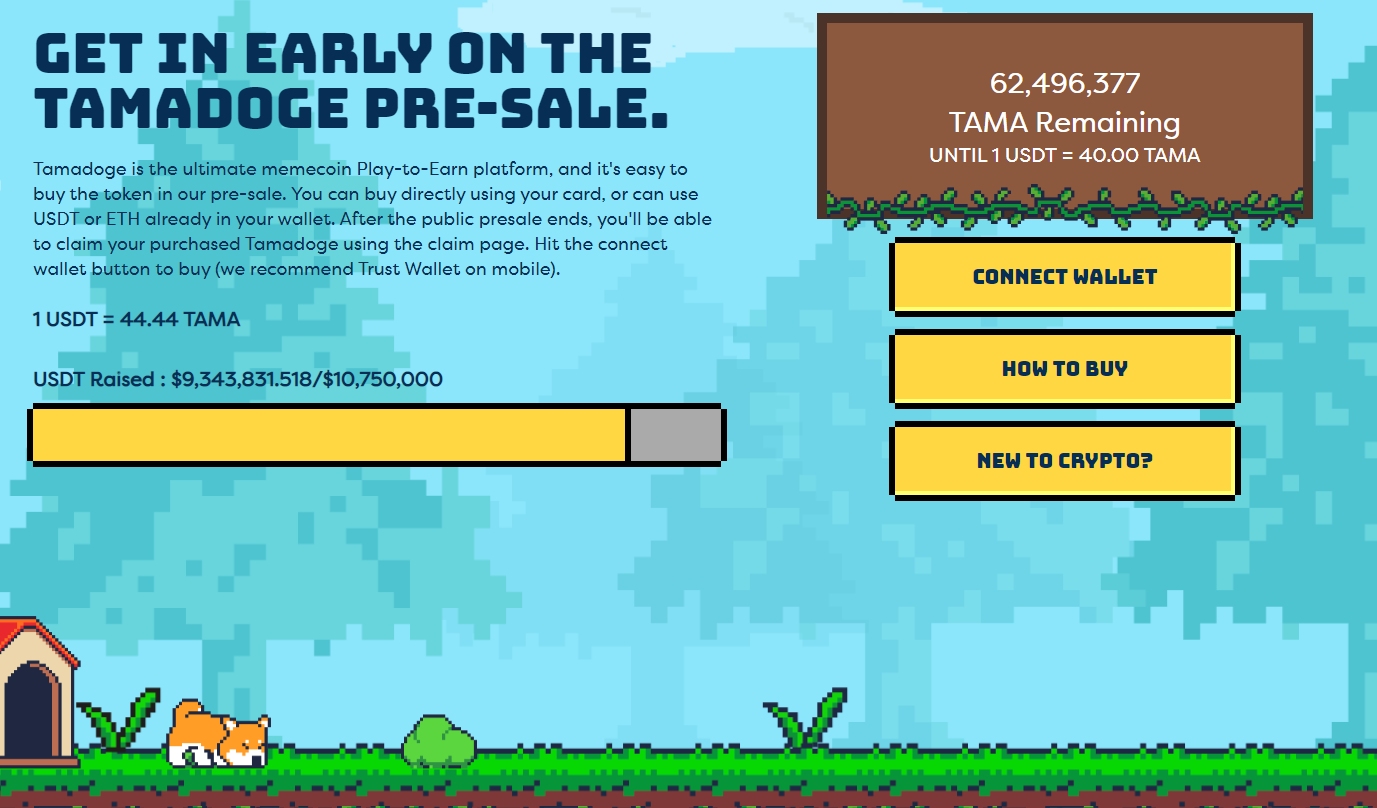 With Tamadoge, users can be part of a metaverse that will be accessible through desktop as well as mobile phones. Eliminating the entry barrier presented by most AR technologies.
Visit Tamadoge Presale Now
The token is currently undergoing a presale, and so far they've raised more than $9 million in a very short time. If you're looking for outsized returns on your investment, you may want to consider adding Tamadoge to your portfolio. You can read the detailed roadmap and whitepaper of Tamadoge at Buy.Tamadoge.io
Read More:
Tamadoge – Play to Earn Meme Coin
Earn TAMA in Battles With Doge Pets
Capped Supply of 2 Bn, Token Burn
NFT-Based Metaverse Game
Presale Live Now – tamadoge.io
Join Our Telegram channel to stay up to date on breaking news coverage