Best NFT Art and Games Marketplaces September 2022

Join Our Telegram channel to stay up to date on breaking news coverage
Non-fungible tokens (NFTs) are still in high demand despite the market downturn. These tokens have infiltrated nearly every industry, and there are signs that they will continue to expand. NFTs have been particularly visible in the arts and gaming industries. Art NFTs represent works of art, while gaming NFTs typically represent characters or other game elements. NFTs in play-to-win gaming gives players an additional incentive to generate income.
Marketplaces are useful for investors to buy art or gaming NFTs. Which marketplaces are the best for potential investors? This article reveals the best NFT art and games marketplaces this month:
1. OpenSea
OpenSea is the first on our list of the best NFT art and games marketplaces. Many investors already believe that OpenSea is the best NFT marketplace in the world. Based on the platform's trading volumes, this belief has some validity. OpenSea outperforms other marketplaces in terms of the trading volume. The marketplace arguably brought NFTs to the general public's attention.
OpenSea, built on the Ethereum blockchain, provides various types of NFTs, such as domain names, art, gaming, and even movies. The platform supports over 150 cryptocurrencies, providing a significant amount of payment diversity. Users can easily withdraw funds from their crypto balance and make payments without having to convert them to ETH.
OpenSea also enables anyone to create their own NFTs. Creators don't need any coding knowledge. They just need to upload their NFT, and the platform will do the rest.
In terms of fees, OpenSea charges only 2.5%, which is paid by the seller rather than the buyer. OpenSea buyers only need to pay network fees, which are usually insignificant.
2. Rarible
Rarible is another leading marketplace for top NFT projects. The platform, like OpenSea, provides access to various NFT categories, ranging from art to photography and even a few games. Rarible has even expanded into metaverse items, with users able to purchase in-world items such as clothing and land.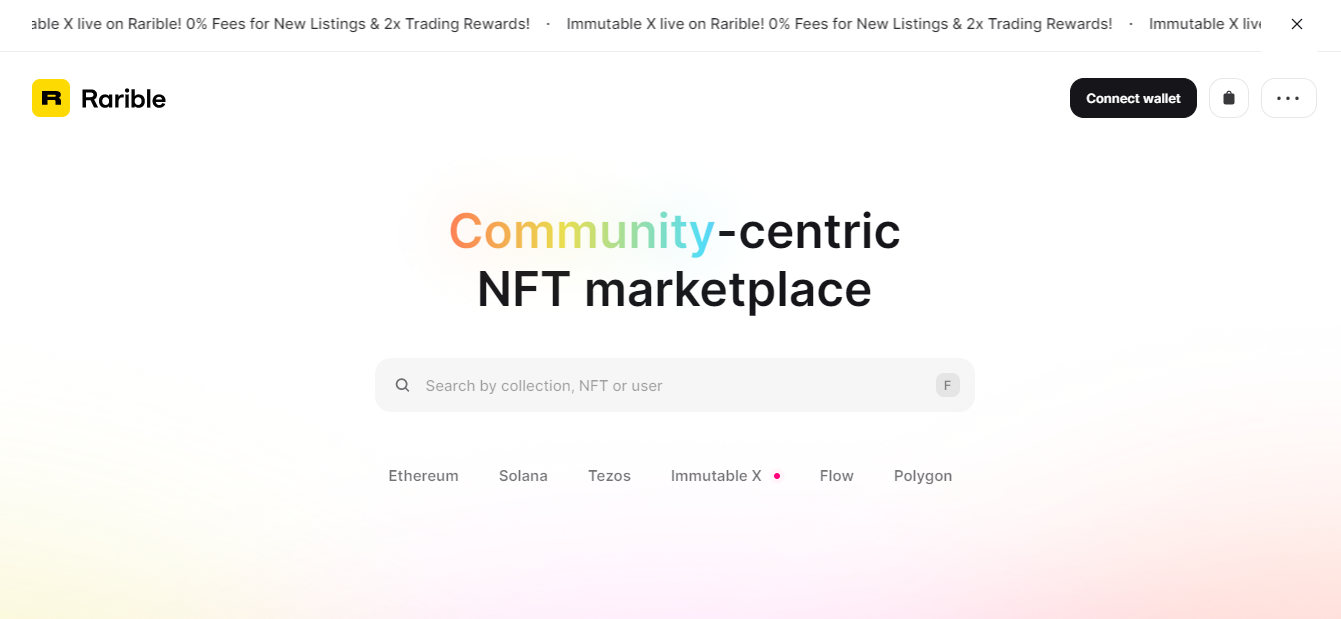 One of the benefits of the Rarible platform is its multi-chain support. While the platform was initially built on the Ethereum blockchain, it has since expanded its support to include chains such as Tezos and Flow. This means that NFTs built on these chains can be sold on Rarible, potentially opening up the marketplace to more tokens in the future.
Another advantage of Rarible is that users can buy NFTs with debit or credit cards. Rarible is truly a global platform, with support for over 190 countries. Investors can also buy NFTs with various wallets, including the MetaMask and Coinbase Wallets.
Rarible's fees are set at 2.5%. The marketplace charges fees to both buyers and sellers.
3. Axie Infinity Marketplace
Axie Infinity is one of the world's most popular blockchain gaming platforms. The platform is based on NFT digital pets known as Axies, which can be groomed and used to compete against other pets for rewards. It is one of the major platforms responsible for the rise of blockchain-based play-to-earn (P2E) games.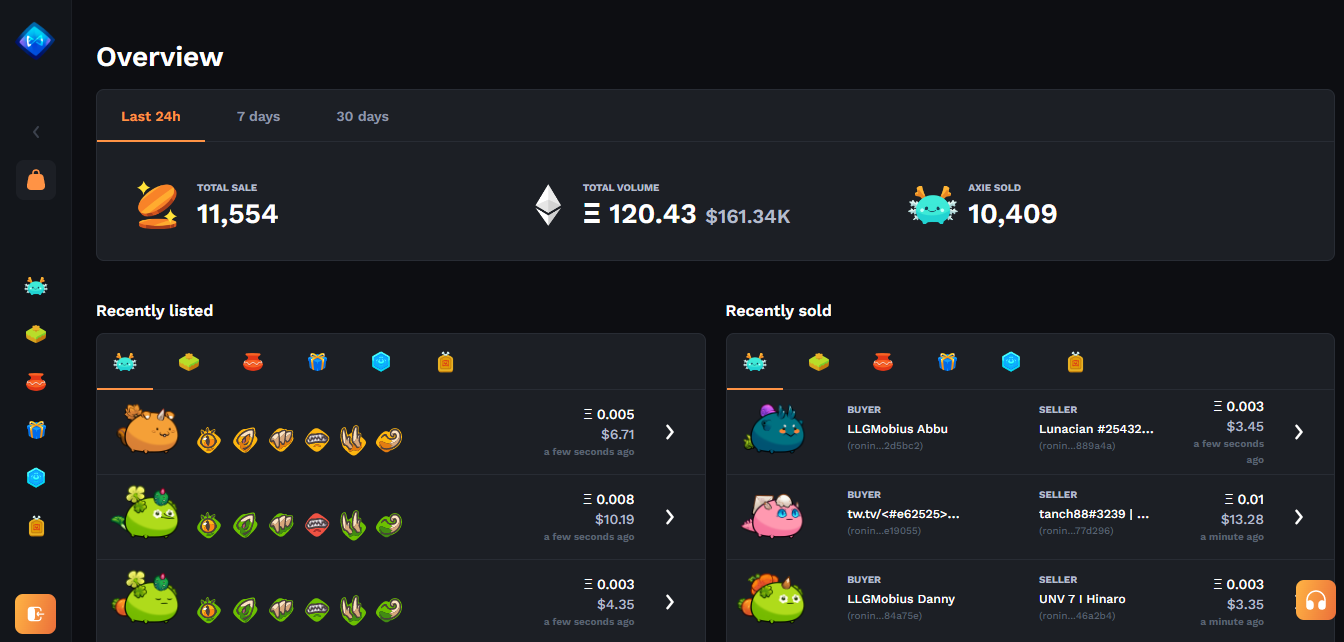 One of the reasons Axie Infinity is so popular is that it has created a resilient economy. Users can buy and sell Axies on the Axie Infinity marketplace. Transaction volumes can be kept within the Axie ecosystem, and players can obtain their digital pets from a single source.
The Axie Infinity marketplace, built on the Ethereum blockchain, accepts all payments in ETH. Unlike other marketplaces, the Axie Infinity marketplace only facilitates Axie trades. Investors looking for an NFT of the Monalisa will have to look elsewhere.
The Axie Infinity marketplace charges 4.25% in fees. Sellers pay the fee, and all marketplace fees go to the Axie community treasury.
4. GameStop NFT Marketplace
The GameStop NFT marketplace is the NFT platform launched by GameStop, America's leading consumer electronics, video game, and gaming merchandise retailer. Since the meme stock frenzy of 2021, GameStop has been warming up to the crypto space, and the company finally launched its NFT marketplace in early 2022.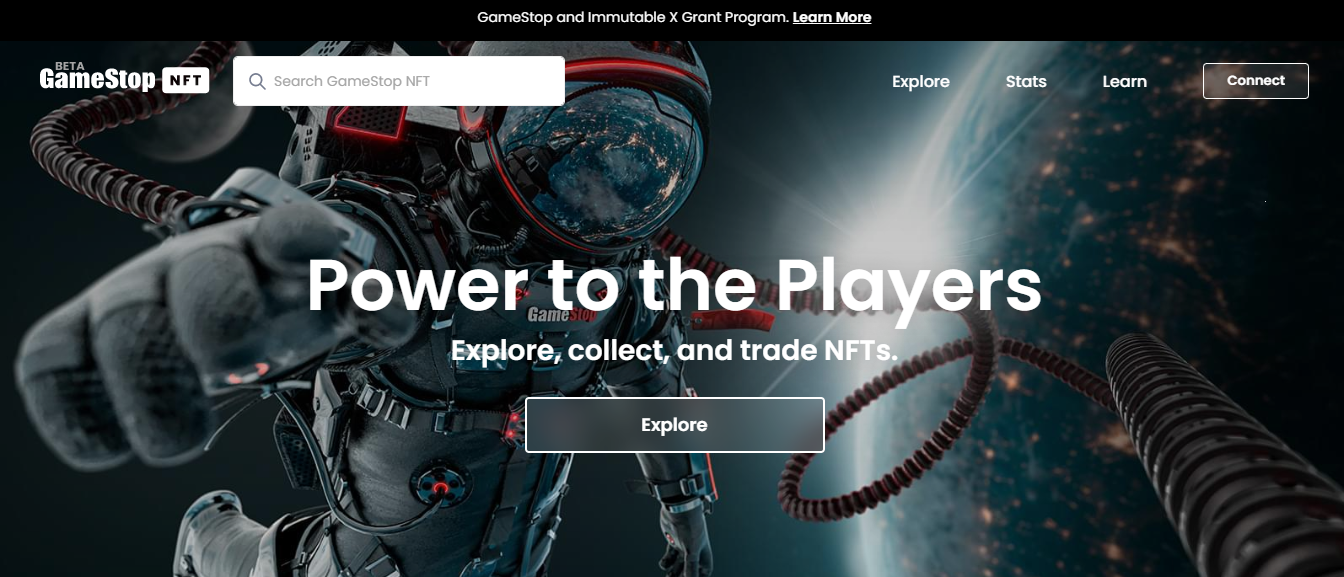 The GameStop NFT marketplace is built on Loopring, a layer-two blockchain protocol that provides access to the resources of the Ethereum blockchain. Users can use the platform to buy, sell, and create various NFTs, ranging from digital art and collectibles to sports memorabilia and photography. However, users who want to mint NFTs must apply as creators on the platform.
The GameStop NFT marketplace currently has over 300 listed collections with nearly 100,000 NFTs. Currently, the platform supports Wallet Connect, Metamask, and GameStop Wallets. It solely accepts ETH for payments.
The fee on the GameStop NFT marketplace is 2.5%, with sellers paying the fee rather than buyers.
5. DraftKings
DraftKings completes the list of the best NFT art and games marketplaces. The company is one of the largest in the United States, and it launched its NFT marketplace in 2021 to offer limited-edition NFTs from some of the world's most popular sports franchises and athletes.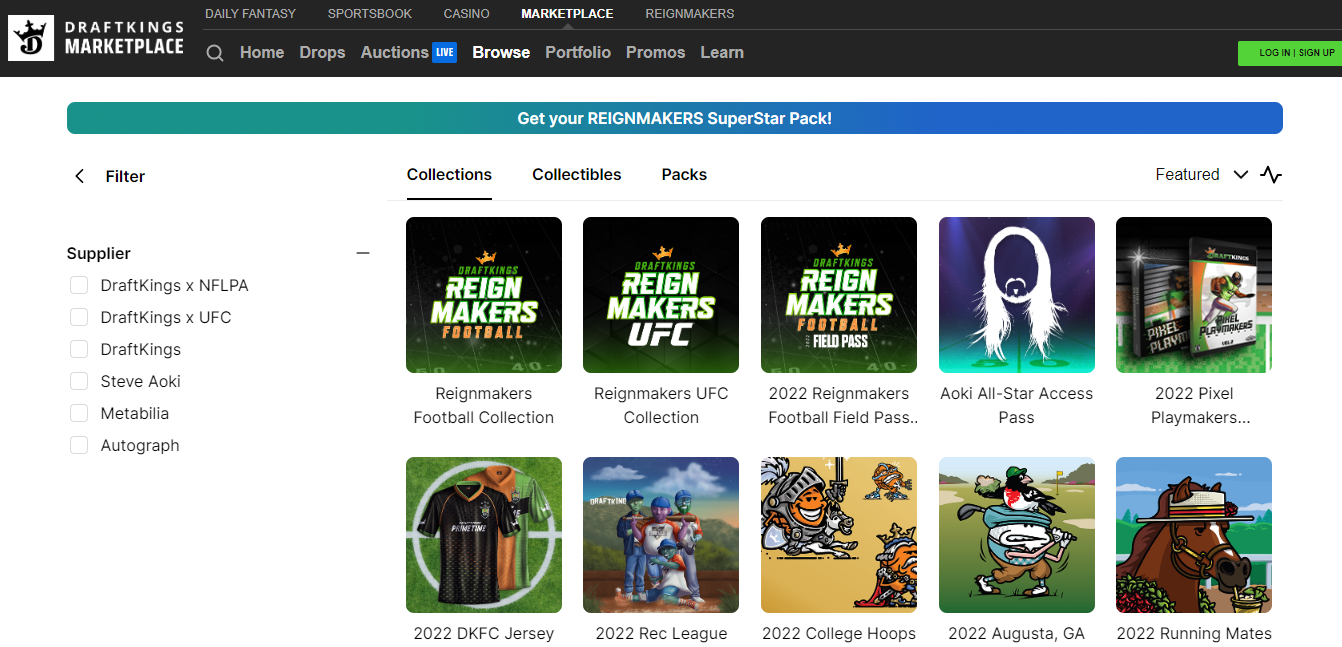 In the first year of operation, the DraftKings NFT marketplace listed NFTs from athletes such as Tony Hawk, Tom Brady, and Wayne Gretzky. Users with DraftKings accounts can easily access the platform, but non-DraftKings users can also purchase NFTs.
DraftKings currently supports over 300 collectibles. The platform accepts payments via wire transfer, PayPal, and credit cards. However, it only accepts fiat payments in USD. DraftKings does not accept cryptocurrency payments.
The NFT fees on this platform are set at 5%. Initial NFT creators also receive 10% royalties on secondary sales.
Read More:
Tamadoge – Play to Earn Meme Coin
Earn TAMA in Battles With Doge Pets
Capped Supply of 2 Bn, Token Burn
Presale Raised $19 Million in Two Months
Upcoming ICO on LBank, Uniswap
Join Our Telegram channel to stay up to date on breaking news coverage