Best Metaverse Projects in 2022

The Metaverse gives users control to build, develop, and explore a virtual world without limitations. The Metaverse as a concept has high potential and has captured the attention of many industries outside of the cryptocurrency and blockchain technology sector – many VC investors are pouring billions of dollars into play to earn gaming and metaverse projects, for example Sony invested $1 billion in the metaverse with Epic Games in Q1 2022 – two video games giants known for the PlayStation and Fortnite series.
According to a report released in April by blockchain analytics firm DappRadar, blockchain gaming activity has surged by 2000% in the last year. For those new to the metaverse arena below is a beginner's guide. We've reviewed both existing and upcoming metaverse projects to watch.
Best Metaverse Projects in June 2022 – Top List
Souls of Nature
Gala Games
Otherside
Decentraland
ApeCoin
The Sandbox
Somnium
Star Atlas
Metahero
Enjin
Top Metaverse Projects – Full Reviews
Below we'll review each of the best metaverse projects we picked out in detail:
1. Souls Of Nature
Souls of Nature is a new initiative that began in 2022 and shows a lot of promise. Souls of Nature is both a metaverse game and an entire metaverse project with its own tradeable NFTs and a goal to help endangered wildlife and their habitats.
Since Souls of Nature is dedicated to animal wildlife and environmental issues – the in-game avatars for gamers in this metaverse gaming experience are animals. You'll be reborn into an animal soul and be sent on a mission to help save the environment – powered by the Unreal engine in immersive HD.
About this Metaverse Project –
There will be 9,271 unique animal NFTs in the Souls of Nature collection, released in 2022 in their upcoming NFT drop. A portion of the mint's proceeds will be donated to organisations that work to safeguard endangered animals and their habitats across the world.
Your animal avatar will be able to evolve and be upgraded through various quests in the Souls of Nature metaverse, allowing you to earn crypto while contributing to a worthwhile cause, animal welfare and the environment.
The Souls of Nature metaverse graphics on the website look very impressive for a project still early in its roadmap. The project will also have its own native coin, $ZOOIE, by the end of the year. Also, all ZOOIE holders will have early access to a beta version of the game.
In a nutshell, this new game will allow you to make money while also caring for the environment. If you want to learn more, check out the project's road map on the official Souls of Nature website.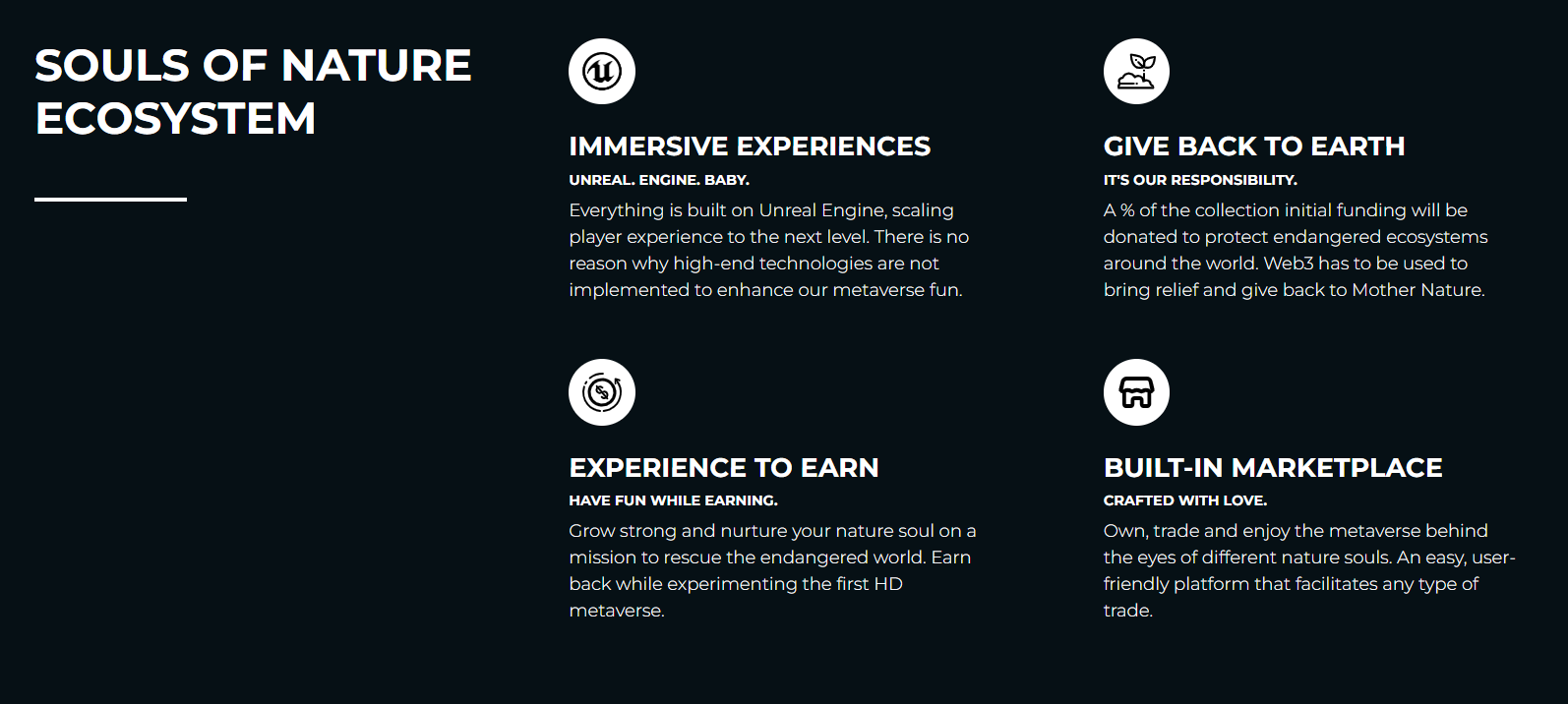 The timeline also includes the establishment of a built-in NFT marketplace for trading Souls of Nature NFTs, as well as seven per cent royalty fees for sales on secondary marketplaces.
To join the community, visit their official website and look for the official Twitter and Discord links. Metazooie Studios is at the helm of this project, a Web3 metaverse design studio situated in Mexico with a diverse worldwide team of remote employees.
We will be keeping an eye on this interesting initiative and its goals to protect wildlife and how they plan to do so using NFT technology. The team are aware that some criticism of NFTs is related to their environmental impact – and aim to use NFTs to lessen that.
That aim will help to make non-fungible tokens gain more acceptance in the mainstream.
Visit Souls of Nature Now
Your capital is at risk
2. Gala Games
Gala is an Ethereum blockchain-based decentralized game and metaverse project. The goal of the project is to return control to the community. Instead of being directed by creators, Gala wants people to decide how the direction of their favourite games should go.
Gala's community makes decisions on its direction and plans for games and the metaverse using a founder node voting method. Gala has released Town Star, its first game, as well as VOX, a follow-up NFT collection. GALA has massive upside potential and is on its way to the moon.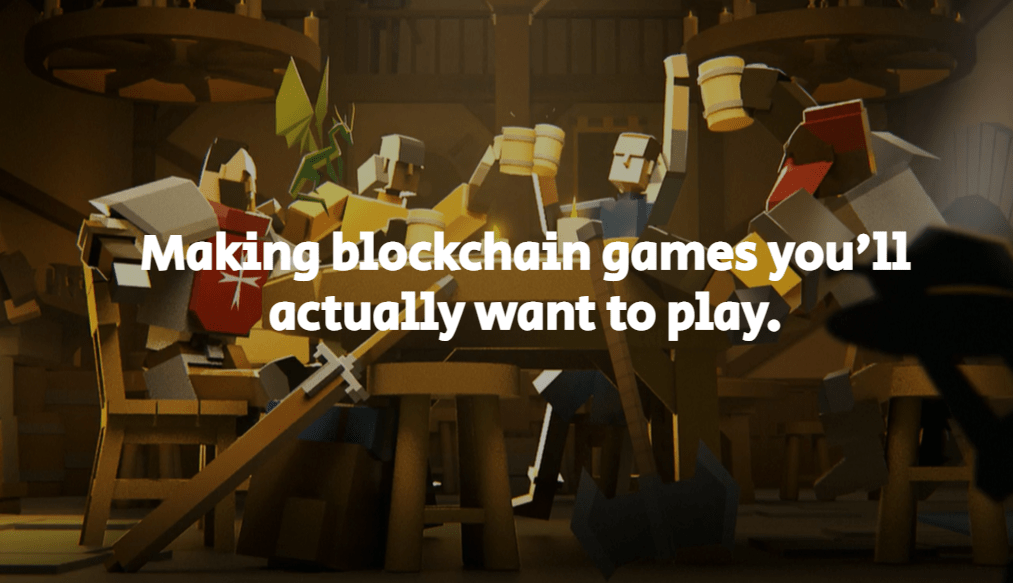 Governance NFT holders will have a direct say in how the platform is run. The founding node voting method will be used by the NFTs to grant voting rights to community members. Gala has the potential to change the way people think about gaming and the metaverse.
Gala Games recently launched a teaser of its new "Project Saturn," which has now been revealed as a 4x strategy MMO-style Battlestar Galactica Blockchain game. The cost of a three-day company-hosted event in Malta, Spain, is about Eight thousand dollars (for event entry and hotel, just to be clear). Future Grit players who attended Galaverse were also given a special loot chest that was attached to an NFTs that may be used in the game once it launches.
About this Metaverse Project –
The Battlestar Galactica blockchain game will take place about 40 years after the First Cylon War, in the same universe as the reimagined series. Each Cylon strike that marks the beginning of a new season will bring with it a fresh set of conditions that survivors must adapt to and plan for.
Each colony's governance, technology, and militarism will be distinct. To determine the fate of each season, these coalitions will need to actively communicate and strategize. Their announcement piece is vague about how NFTs or which elements would play a role. The Gala Games team will have a lot of pressure to live up to after announcing GRIT's Epic Games Store release.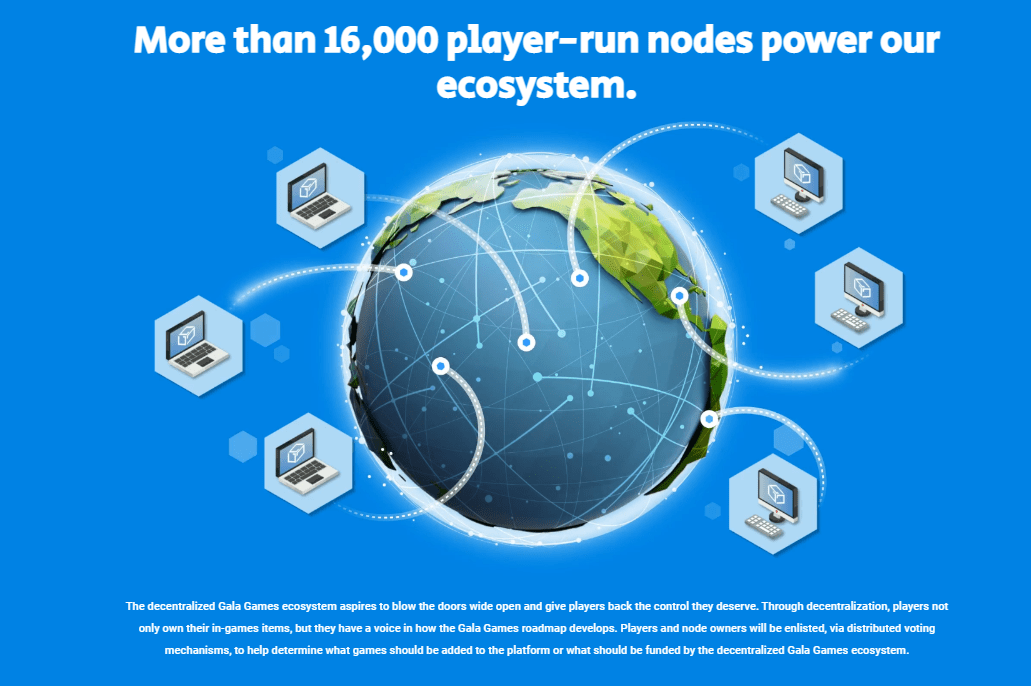 All of the games in this blockchain are immersive and open-ended, thus allowing everyone to participate. They also make use of NFTs, as users own all of the stuff they obtain or purchase in-game. This implies that gamers can trade and sell their stuff on or off the GALA platform at any moment. Gala's native token GALA will be the default means of exchange between players in Gala's games. This will increase player participation and ensure that the token's utility is maintained.
Statistics According to CoinMarketCap –
Currently, Gala Games has a market cap of approx. $439,927,000 with 24 hr Volume at $176,075,620.
Buy GALA Token Now
Your capital is at risk
3. Otherside
One of the most successful NFT collections we've ever seen is the Bored Ape Yacht Club. It first went live in April 2021, with 10,000 algorithmically created NFTs. Some of the most expensive NFTs may be found at the Bored Ape Club. Yuga Labs, the firm behind BAYC, has now begun the process of developing its enormous metaverse project. It's called Otherside, and it's a new project.
The project, dubbed "The Otherside," was first unveiled in March 2022. While some may have mistaken Otherside for a continuation of the BAYC NFTs, it is in no way comparable to subsidiary collections such as the Bored Ape Kennel Club.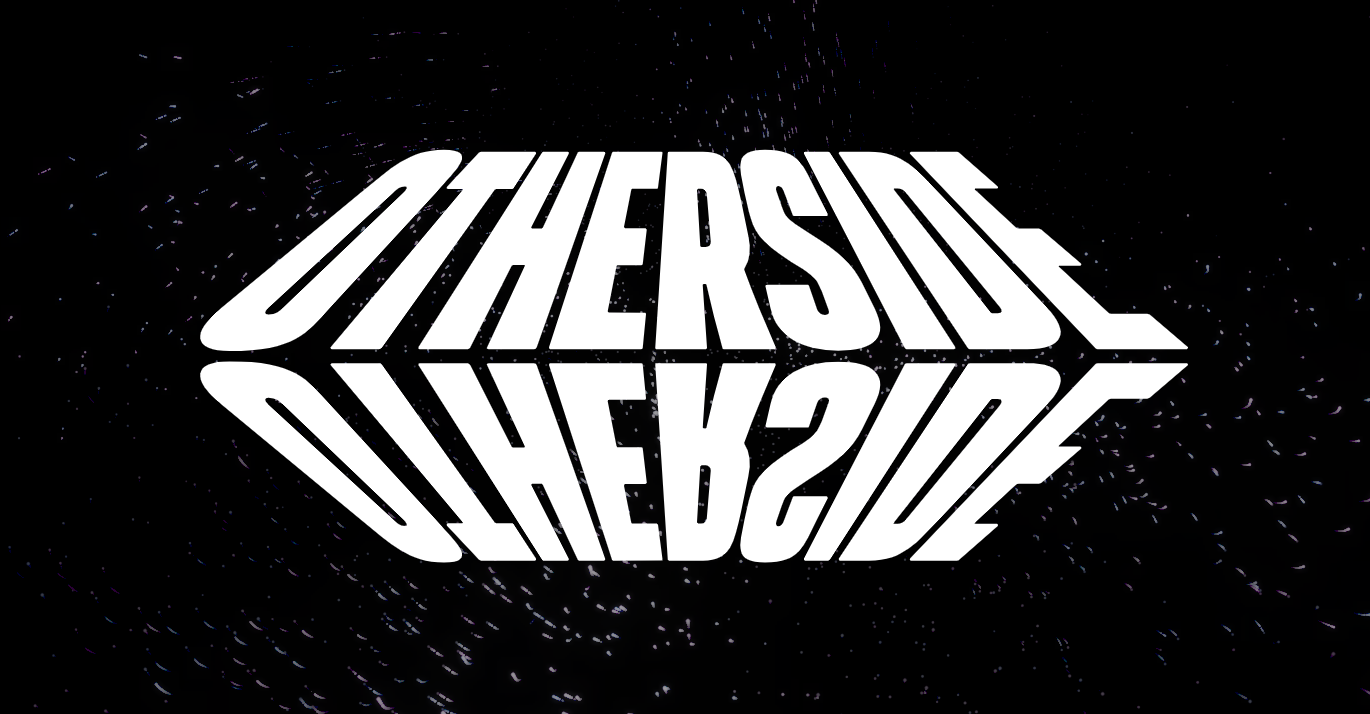 This new venture is completely another ballgame. Even though its introduction was marred by glitches and garnered mixed reviews from the NFT community, it appears that Otherside is here to stay. The spread of the Bored Ape NFT world to the Otherside is the largest we have ever itnessed.
From Yuga Labs' leaked 2022 pitch deck, the NFT community got a first look at what they were trying to construct with Otherside. The company stated in the deck that it wants to "create something that not only expands the BAYC's universe but also allows the greater NFT community (and those priced out of BAYC membership) to join."
The company said the deck was "an old, obsolete pitch deck and a hysterical version that neither Gordon nor I ever saw" in a Discord message. However, it appears that this is precisely what the corporation hopes to achieve with this endeavour. The Otherside website declared that the project is essentially focused on establishing a new universe after a change to their messaging. In particular, in the metaverse.
The Otherside project is ultimately a BAYC-connected MMORPG (Massively Multiplayer Online Role-Playing Game). The game will combine mechanics from MMORPGs and Web3-enabled virtual worlds, according to the creators.
Players will be able to own land in the world, NFTs will be able to be changed into playable characters, and more than 10,000 people will be able to play at the same time.
About this Metaverse Project –
Otherside will have its own metaverse that will provide users with an interoperable experience, allowing them to navigate between them. NFT collections such as Cool Cats, World of Women, CrypToadz, and others are included in the project.
This metaverse will be like an open-world game in this regard, with collectors being able to own land and interact with various ecosystems and the distinct beings that inhabit them.
Yuga Labs has raised $450 million to expand its metaverse. In Otherside, Yuga intends to employ ApeCoin as its primary currency. The Otherside is also being made in collaboration with animoca brands, the same company that brought you The Sandbox.
This hints that the two metaverses may be linked in some way. At launch, owners of Mutant Ape, Board Ape, CryptoPunk and Kennel Club NFTs will be able to use their NFTs as playable characters. Meebits will be accessible in the future, but it does not appear that they will be available at launch.
The land plots for sale on the Otherside are another key component of the Otherside. Selling virtual land is a common occurrence in metaverse games, and the Otherside has followed suit. In this metaverse, there are about two hundred thousand plots of land, each with its own unique global location. They sold the first Otherdeeds for the Otherside in the last week of April. Note that Otherdeeds are just the term given to the NFTs that represent land plots, and the launch of the Otherside includes 55,000 Otherdeeds.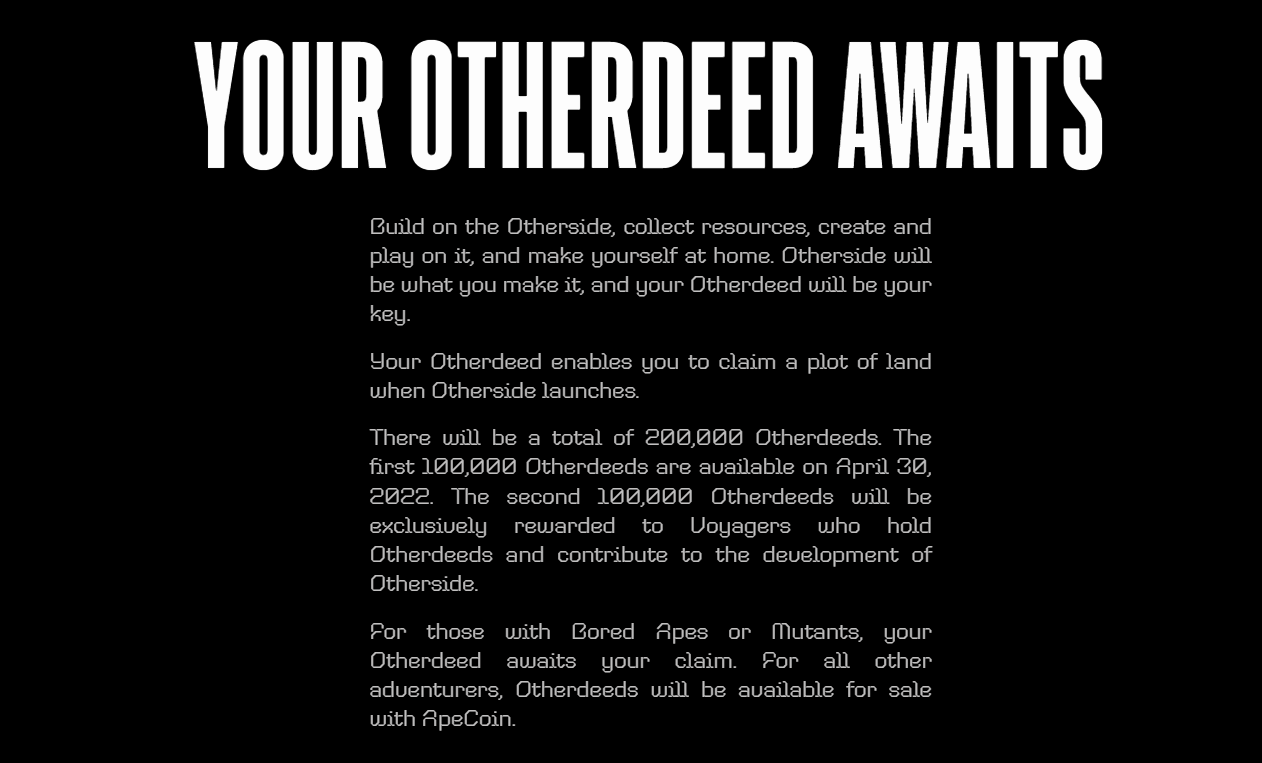 After the Yuga Lab's BAYC and Otherside, their metaverse discord service area was hacked to publish a phishing arrangement, hackers allegedly took approximately two hundred thousand dollars in Ethereum and thirty-two NFTs. This phishing scheme posed as an exclusive, limited offer for current BAYC, MAYC and Otherside non-fungible tokens holders and directed a link to a webpage where one could mint their free non-fungible tokens.
Approximately thirty-two NFTs were taken, according to blockchain cybersecurity firm PeckShield, including those from the Otherdeed, BAYC, Bored App Kennel Club, and Mutant Ape Yacht Club projects.
Statistics According to CoinMarketCap –
Currently, Gala Games has a market cap of approx. 596,226.3 ETH with 24 hr Volume at 767.37 ETH.
Buy Ethereum for Otherside Metaverse Now
Your capital is at risk
4. Decentraland
Decentraland is best explained by comparing it to Sandbox games. The Elder Scrolls and GTA series are two popular examples of this genre. The best parallel is probably Minecraft, which uses low-poly 3D graphics as well. As a result, people can explore, interact, and transact with one another across a large map. They can also generate material that can be monetized afterwards.
When it comes to the Metaverse, Decentraland is one of the most well-known platforms. In fact, when it comes to the capitalization of its coin, it is the most crucial. The MANA token is one of the top 40 cryptocurrencies in the world, with a market valuation of more than $4 billion.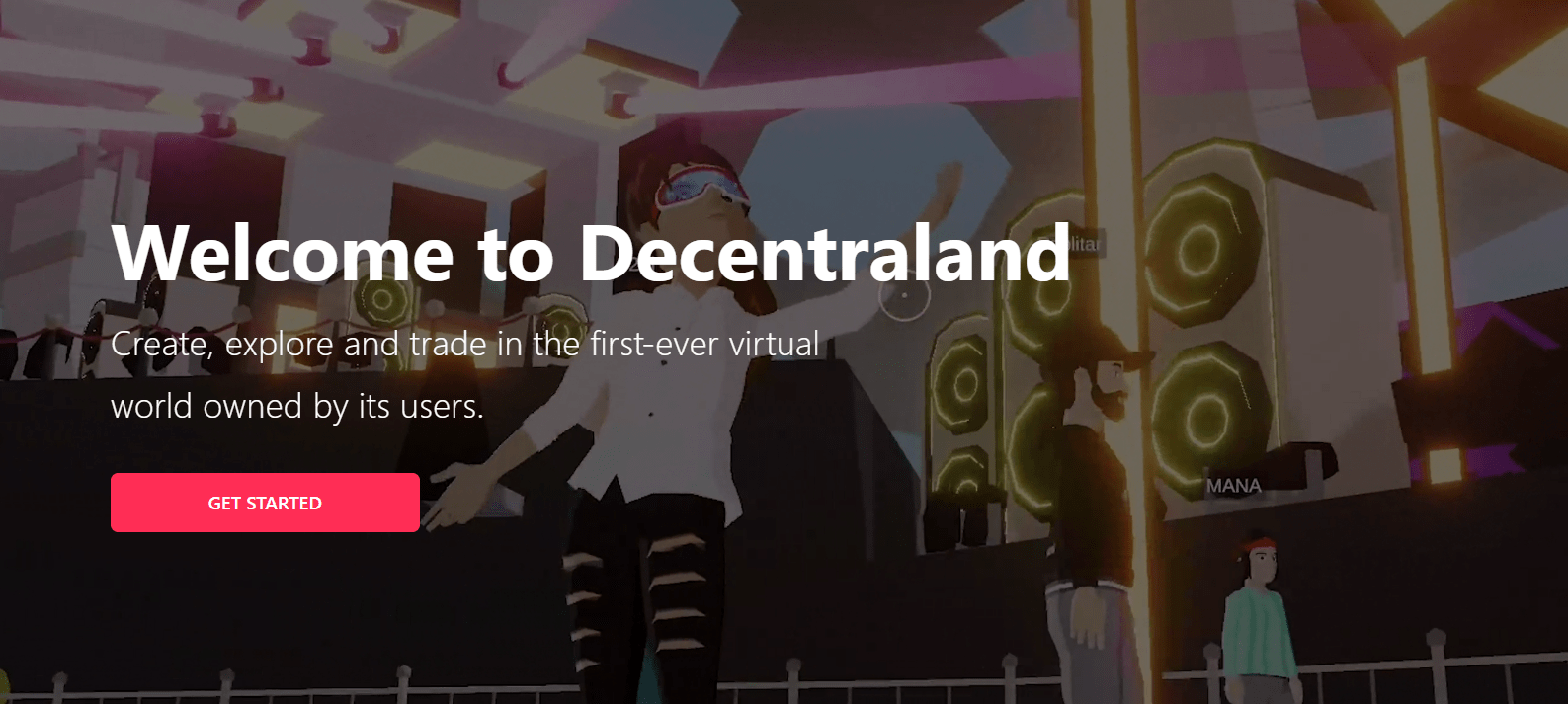 Decentraland is one of the earliest metaverse platforms to be created. Decentraland's Beta version was released in 2019. Its official debut is scheduled for February 2020. Few people had heard of the metaverse at the time, and Facebook was still a long way from changing its name to Meta.
About this Metaverse Project –
Decentraland is a pure metaverse platform based on the principles of historical video games like Sim City. It provides virtual land that players can purchase and then develop by putting infrastructure in place. The platform offers 90,601 plots, each measuring 16 metres by 16 metres. Each plot is a non-financial token (NFT) that is acquired with cryptocurrency.
MANA, a native ERC-20 token with a restricted quantity, is Decentraland's money. When someone buys a non-fungible token (NFT), the platform burns a portion of its MANA supply. The term "non-fungible" refers to something distinct. An artwork, for example, is non-fungible, whereas cash, such as Ether or MANA, is. In January, MANA was trading at $0.08. It reached $1.6 in mid-April as a result of recent media attention. It's useless outside of Decentraland. Its primary goal is to make purchasing LAND tracts easier.
The platform's developers sold LAND for roughly twenty dollars each when it first launched in 2017. A parcel is a 3333-foot chunk of land. Users spent about one sixty-one million MANA on 34,356 LAND plots during the maiden auction, totalling roughly thirty million dollars. LAND can be purchased on the Decentraland Marketplace as well as on secondary markets. It's a non-fungible token, and these have been increasingly popular in recent months.
Because of their attractiveness to Generation Z towards crypto, NFT and Metaverse, one thing is we are sure of- these virtual metaverses like decentraland are here to stay for a long time.
In 2021, the official currency of Decentraland, MANA, price skyrocketed, and what was a once barren land with nobody's attention on it is slowly filling with content as the Decentraland user population grows. There are a host of metaverse competitors who is gaining popularity as well. Somnium Space, The SandBox, and Axie Infinity are the most notable. For $1.5 million, the latter just sold nine virtual land plots.
Statistics According to CoinMarketCap –
Currently Decentraland has Market Cap $1,534,697,710 with 24 hr Volume at $189,341,958.
Buy Decentraland's MANA Token Now
Your capital is at risk
5. ApeCoin
As of now, in 2022, ApeCoin is one of the most popular cryptocurrencies. The digital currency inspired by the Bored Ape Yacht Club (BAYC) has grown by almost 1,000 per cent in just a year. As a result, ApeCoin has ascended to the top fifty digital assets in terms of market capitalization. That was back in the day, though.
When the APE price dropped nearly forty per cent in three days, Ape's bulls were taken off guard. The Bored Ape Yacht Club (BAYC) has been one of the leading non-fungible token collections with a thriving community since the ApeCoin DAO launched in April 2021.
ApeCoin community members utilize the coin to make up the whole ecosystem of Ape. Yuga Labs, which was founded in the year 2021 and based in Miami, is a renowned name in the NFTs and digital collectables world, a member of the ApeCoin decentralized autonomous organization's community and is most renowned for being the founding fathers of the BAYC. In all of the projects the community works on, they use ApeCoin as their primary token.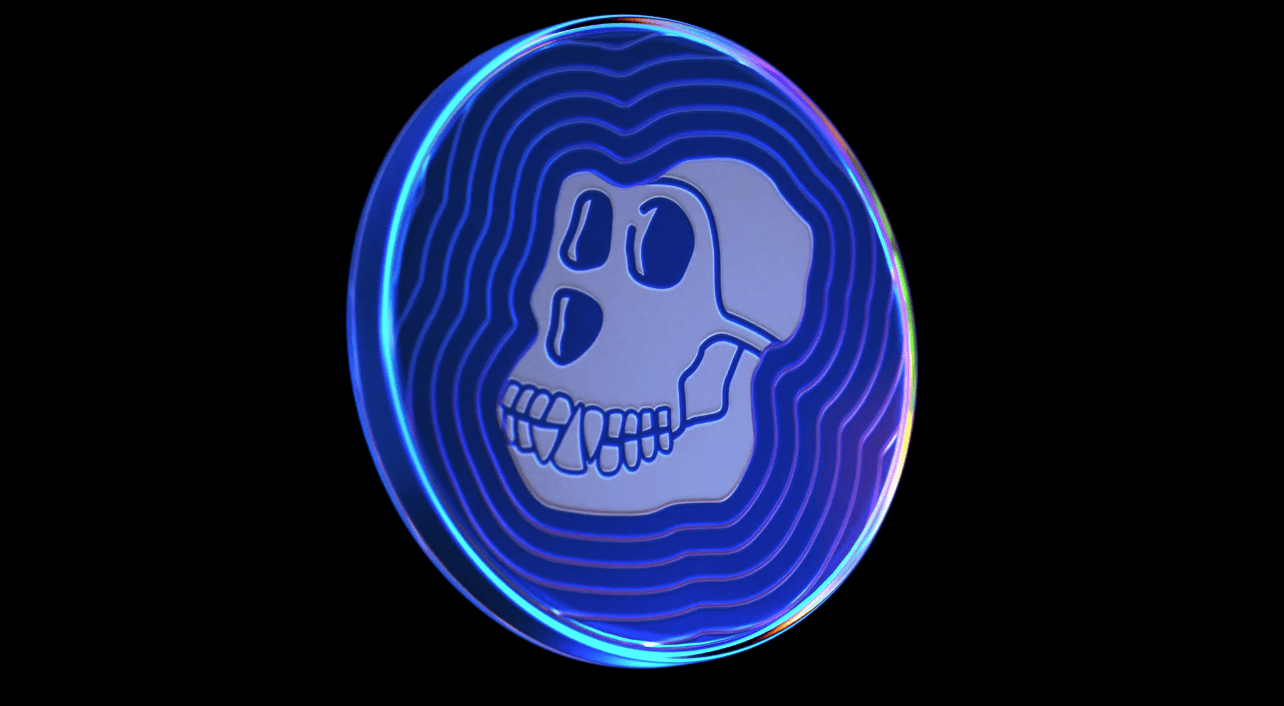 Since the ApeCoin decentralized autonomous organization started in April 2021, the Bored Ape Yacht Club has been one of the main non-fungible token collections with a flourishing community. The apes in the BAYC collection appear to be bored. You can personalize these monkeys to your heart's content, depending on your mood and tastes.
These works of art have drawn nominees from all around the world, including celebrities like Justin Bieber and Eminem. ApeCoin is an ERC-20 domination and utility token in the APE ecosystem that is governed by a decentralized autonomous organization (DAO). Anyone who possesses the coin has the ability to vote on key governance issues.
You must first decide where you want to buy ApeCoin before you can purchase it. Many crypto exchanges have classified this popular token as a top possible NFT project and the most sought cryptocurrency based on investor preferences and the hottest cryptocurrencies of 2022 since its launch in March. However, buying ApeCoin from one of the cryptocurrency businesses and exchanges listed below may be the best option. In general, eToro is the best platform to acquire ApeCoin from.
APE token holders vote on matters such as fund allocation, rule framing, partnerships, project selection, and more and make collective governance decisions. The ApeCoin Foundation is responsible for implementing the community's governance decisions.
About this Metaverse Project –
ApeCoin is an Ethereum token associated with the BAYC NFTs. It had a consistent supply of purchasers from the start because it was formed by a thriving online community like the Bored Ape Yacht Club. Fans of the arts, culture, gaming and entertainment are more likely to use cryptocurrencies.
The coin will also benefit from the selling of metaverse land. ApeCoin can be bought for a variety of reasons, including as a payment option, receiving NFT prizes, and getting access to exclusive APE ecosystem services. Regardless of these features, you should be aware that the currency is inextricably linked to NFT-related volatility.
As the decentralized autonomous organization's legal representative, the ApeCoin Foundation promotes the ecosystem's growth. The Foundation's Board of Directors is a separate entity that carries out the community's goals. The APE Board is made up of five members from the technology and crypto fields. ApeCoin holders elect new Board members on an annual basis.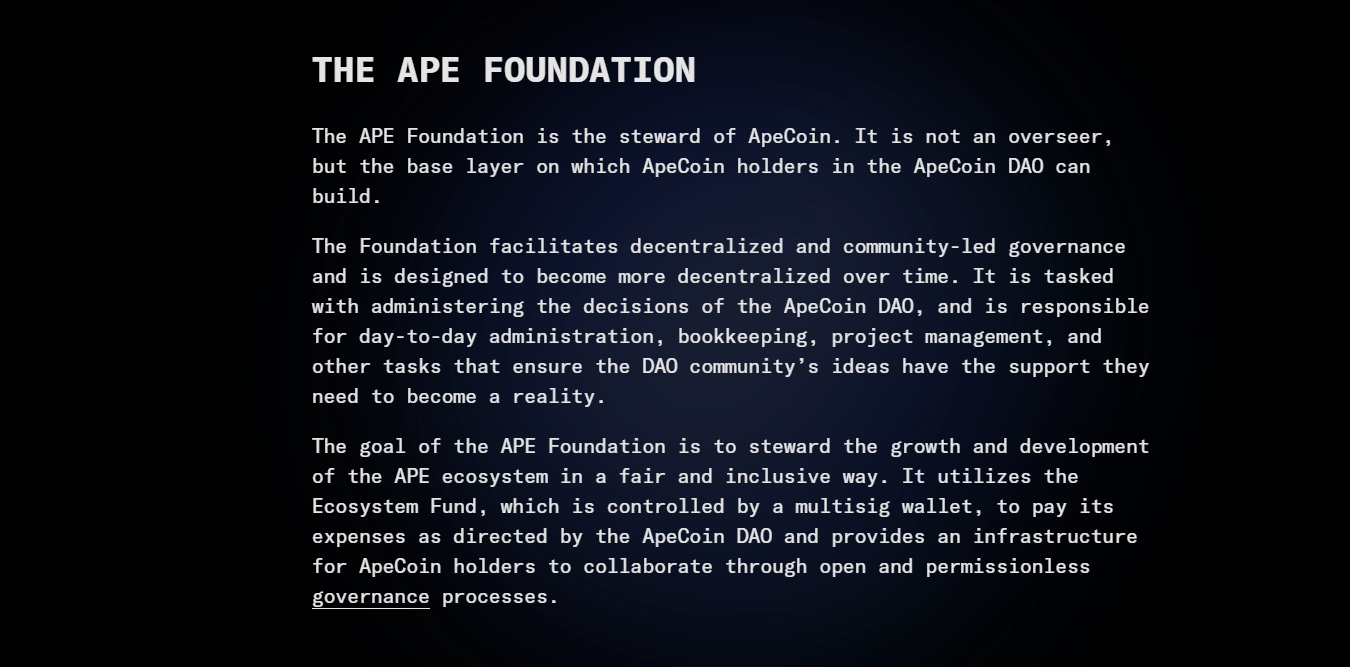 As a domination and utility coin, ApeCoin serves a range of functions in the ecosystem. Holders of Aoe will have access to unique features of the ecosystem, including games, events, goods, and services, as well as participate in the DAO's governance.
ApeCoin is a Web3 currency that may be used to make purchases. It has the same design as every other Web3 coin. ApeCoin is theoretically accepted by most retailers because it is an ERC-20 token. BAYC holders receive free APE that they may use right away, and the coin is also utilized as an NFT reward. Third-party developers use ApeCoin to integrate the currency into their services, games, and other projects, allowing them to participate in the ecosystem.
ApeCoin is projected to integrate with the forthcoming metaverse "Otherside" this year, making it a popular metaverse coin. As a result, ApeCoin will become a transaction token in meta marketplaces. If the metaverse includes Play to Earn gaming (P2E) elements, it might be used to reward players.
Statistics According to CoinMarketCap-
Currently ApeCoin has Market Cap $1,424,598,061 with 24 hr Volume at $246,508,908.
Buy Apecoin Now
Your capital is at risk
6. The Sandbox
The Sandbox game's idea is extremely similar to Decentraland's. It is a platform that allows users to freely create, build, buy, interact, sale and sell in a virtual world. The power of community members is emphasized in this blockchain-based metaverse by allowing them to be both makers and users at the same time.
The concept also combines the use of DAOs and NFTs to build a completely open crypto metaverse. The project uses a play-to-earn strategy to keep users involved, allowing them to sell, build, and gather items in the metaverse that may be converted into a real-world monetary benefit.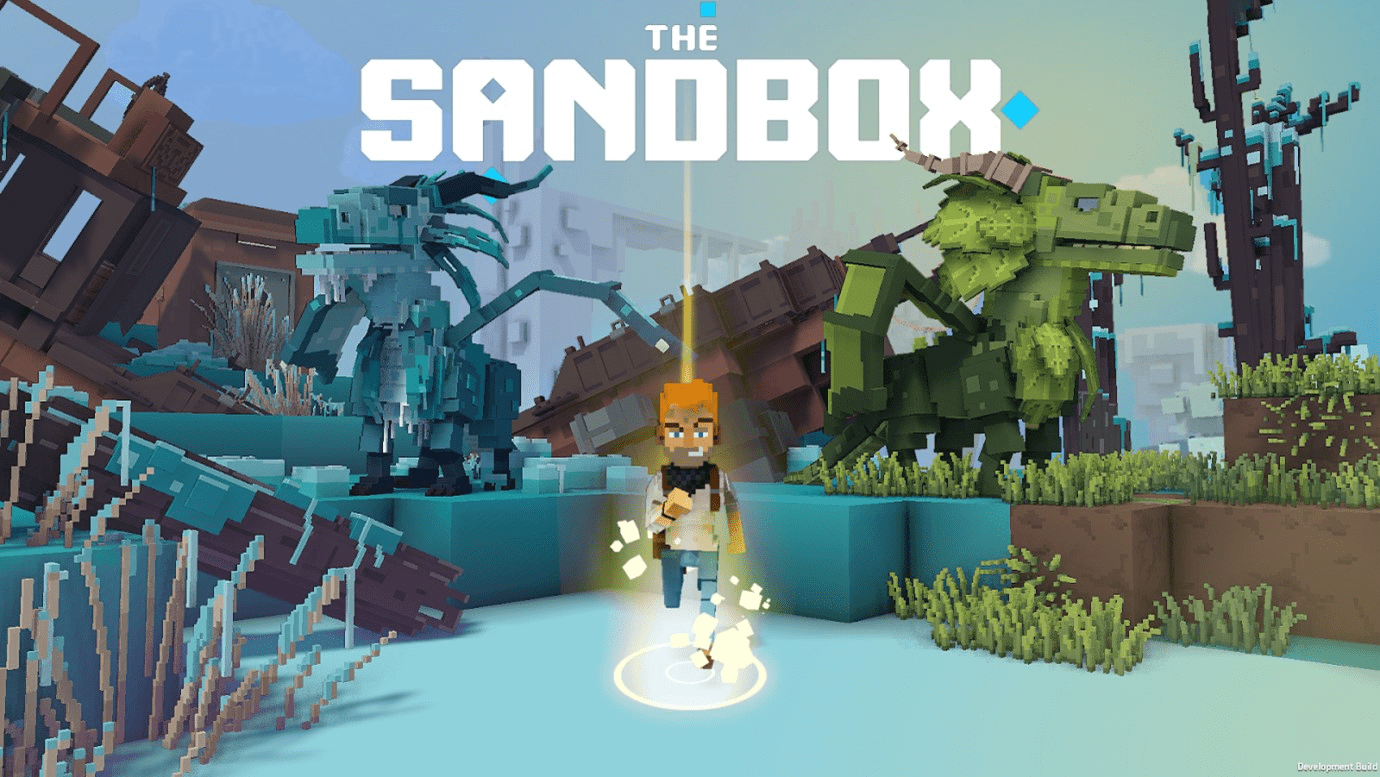 LANDs tokens, which run on the Ethereum blockchain, can be used to buy land (ERC-721). There are 166,464 plots in the Sandbox metaverse. Players can create avatars to access the many games, destinations, and centres available in The Sandbox metaverse. Consider it a DeFi-based blockchain version of Minecraft. The Sandbox's native token is Sandbox (SAND). It's an ERC20 utility token that can be used to buy and sell lands and assets in The Sandbox.
NFTs are the platform's primary currency, and SAND powers the game's ecosystem.
Arthur Madrid and Sébastien Borget, two Frenchmen, designed the game. On the other hand, the Sandbox corporation is situated in Hong Kong. The project's beginnings may be traced all the way back to 2011. In 2021, the company's metaverse was officially launched. For this, the company was able to raise considerable sums from well-known investors, including Softbank, which invested $93 million.
About this Metaverse Project –
The SAND token allows users to entirely interact, keeping in mind that interaction happens within the laid protocol and permits all trades on the site. It also permits these people to use DAO to vote on the project's future.
By putting the metaverse in the hands of its decentralized community, SAND has ensured that users and consumers would not advance anything that the community does not want and thus allowing space for natural growth.
The Sandbox is unique in that it allows users to personalize and customize their experiences by purchasing or trading NFTs. VoxEdit, a platform feature, makes it easier to create NFT elements, which "Game Maker" customers can then utilize to customize their games.
They can then sell their creations on The Sandbox Marketplace or any other marketplace that accepts The Sandbox's NFTs. Users can construct 3D games on their plots of land using Game Maker, and users can create voxels, i.e., the minutest unit of 3-dimensional design, with Voxel Editor to bring earthly creations like fauna and flora to life.
According to a study published by Ledger Insights, L'Oréal-owned NYX Cosmetics recently worked with The Sandbox metaverse to develop a diversified avatar collection showcasing numerous make-up looks. The effort is designed to coincide with Pride Month, although it will represent minorities other than the LGBTQ+ community. A total of more than 8,000 avatars will be available for purchase in The Sandbox's Metaverse.
Sandbox (SAND) makes use of both its own and OpenSea's marketplaces to give its users more reach and scope in the virtual world. It has shown to be a successful intersection network between blockchain and gaming, allowing crypto natives and non-natives to generate and commercialize their assets on a highly secure platform.
It has a small market capitalization and is paired with another well-known coin that could help you diversify your portfolio and satisfy your future financial needs. The Sandbox (SAND), on the day of the press, is ranked 37th on CoinMarketCap and has a market cap of over $1.3 billion, making it one of the world's largest cryptos and one of the most popular gaming platforms.
Statistics According to CoinMarketCap –
Currently SAND has Market Cap $1,342,093,781 with 24 hr Volume at $268,947,368.
Buy SAND Token Now
Your capital is at risk
7. Somnium Space
Somnium Space is a free and open-source project. Users can construct homes, buy digital land and structures, play hyper-realistic video games, launch businesses, and also host live concerts and events.
Somnium Space's founder and CEO, Artur Sychov, built the platform in 2017 and made it public in September 2018. The area in Somnium is accessible via all compatible devices –  PCs, VR and web, plus it is also mobile-friendly. The emphasis is on providing people with the best one-of-a-kind virtual reality experience possible.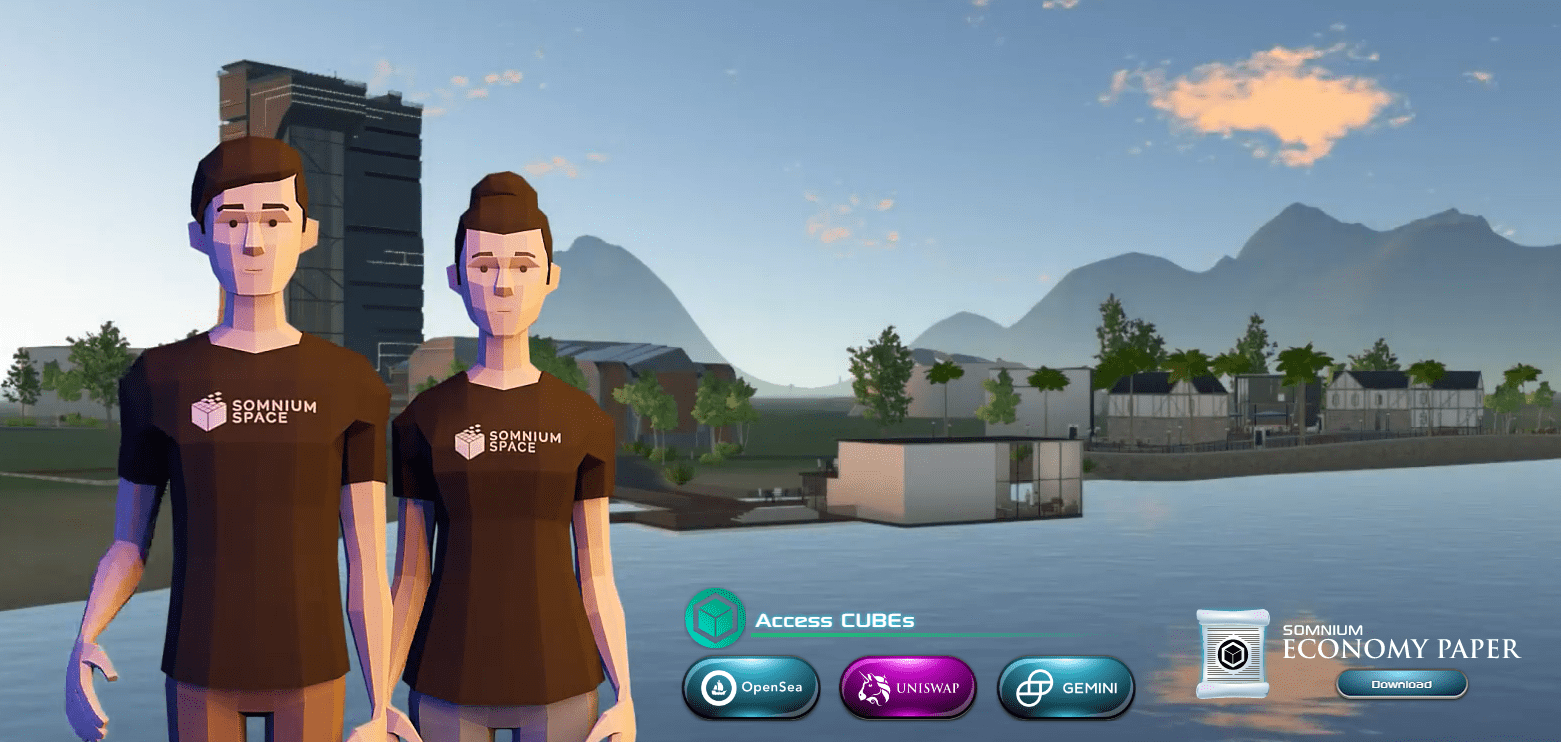 This places it with industry pioneers like Decentraland as one of the first movers in the field. Somnium Space offers very minimal entrance barriers and aims to make metaverse technologies available to everyone. Importantly, it takes a democratic approach to economics and intends to create its own blockchain-based commercialization and revenue-generating mechanism.
A successful metaverse platform relies on an independent, decentralized, and free-market economy. There are no red ropes preventing participation, and it is truly borderless, unlike real-world economies.
About this Metaverse Project –
Somnium Area is based on a concept and promises to provide a democratized space for users to earn, sell, and create assets that can be converted into money. Somnium Space achieves this by utilizing the Ethereum network, which serves as its basic underlying architecture. The programme uses the Ethereum blockchain to tokenize in-game assets such as avatars, land, wearables, and several other items.
This feature separates the Somnium Space company from the value generated by participants, allowing them to benefit from the value created in the metaverse throughout the crypto and token markets.
CUBE, an ERC-20 token native, is used as the native token of Somnium Space. The token can be used to buy virtual products, pay for metaverse goods and services, pay for games and events, rent land, and also reward players for having good 'karma.' CUBE can be kept in a cryptocurrency wallet and custodian such as Gemini.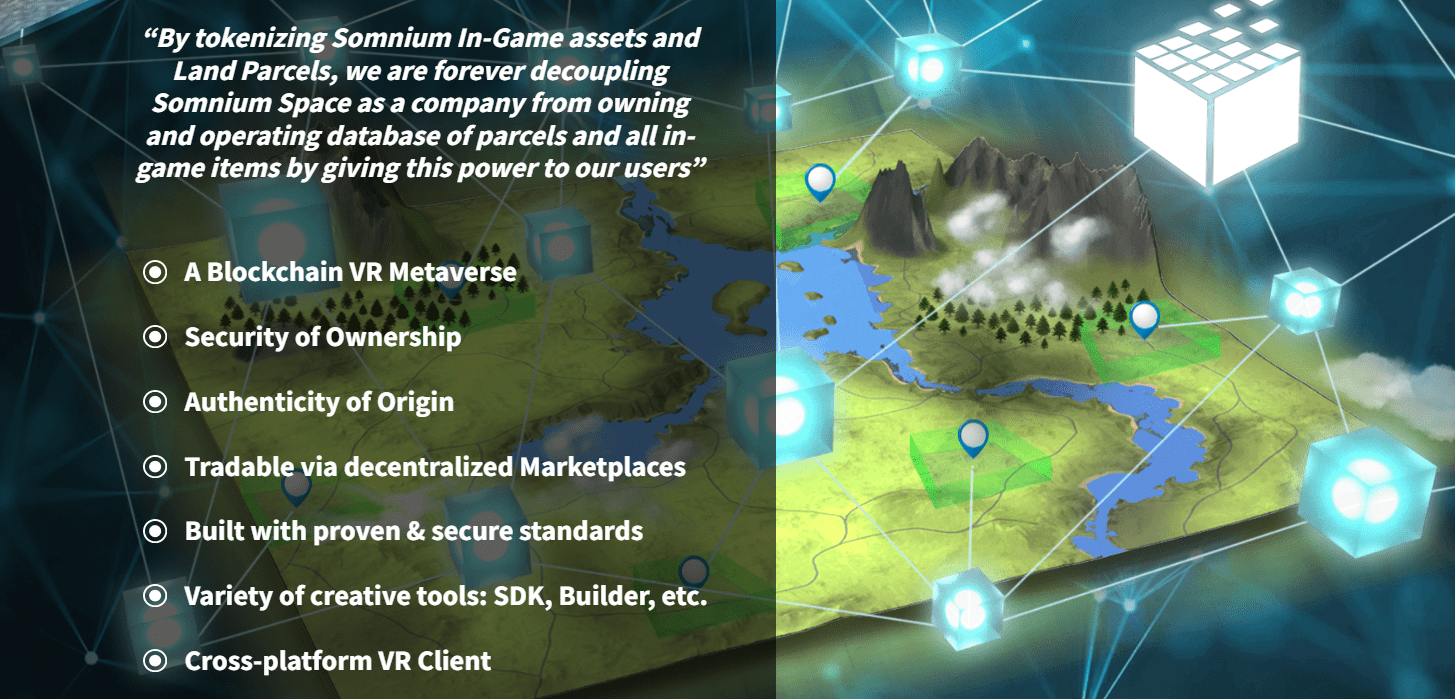 The CUBE cryptocurrency operates as a digital analogue to purchasing game tokens at an arcade to make transactions between users more efficient. Gamers can hold ETH, CUBE, and NFTs on their own with an Ethereum wallet. CUBE connects numerous objects, allowing for in-game transactions. CUBE is now only compatible with games, but this will soon be expanded to include the full platform economy.
So far, Somnium Space has conducted two Initial Land Offerings, also called as ILOs in the meta-world language, in connection with the distribution of PARCELS (Land Parcels) to its stakeholders. Players who want to establish their own Somnium planet must first purchase land parcels, which they can then assign any NFT to and explore in VR.
If you want to check out the site or be a part of this project, you may do so using the Somnium WEB client or downloading the Somnium application to your computer.
Statistics According to CoinMarketCap –
Currently Somnium Space has Market Cap $20,706,817 with 24 hr Volume at $126,109.
Buy Ethereum for NFTs Now
Your capital is at risk
8. Star Atlas
It is another Metaverse project where players are expected to keep their spaceships productive after enrolling by providing enough fuel, ammo, tool kits, and food to keep their fleets fully operational.
The marketplace in Star Atlas allows players to buy and trade in-game assets such as ships and minerals. Although USDC can be used to purchase in-game items, ATLAS is the dominating currency in the NFT marketplace.
Star Atlas, a next-gen metaverse built on Unreal Engine 5 graphics and featuring triple-A game design, recently announced an increased focus on security to assure consumer protection and digital safety in the metaverse. POLIS and ATLAS are the two-game tokens that drive all game actions in Star Atlas.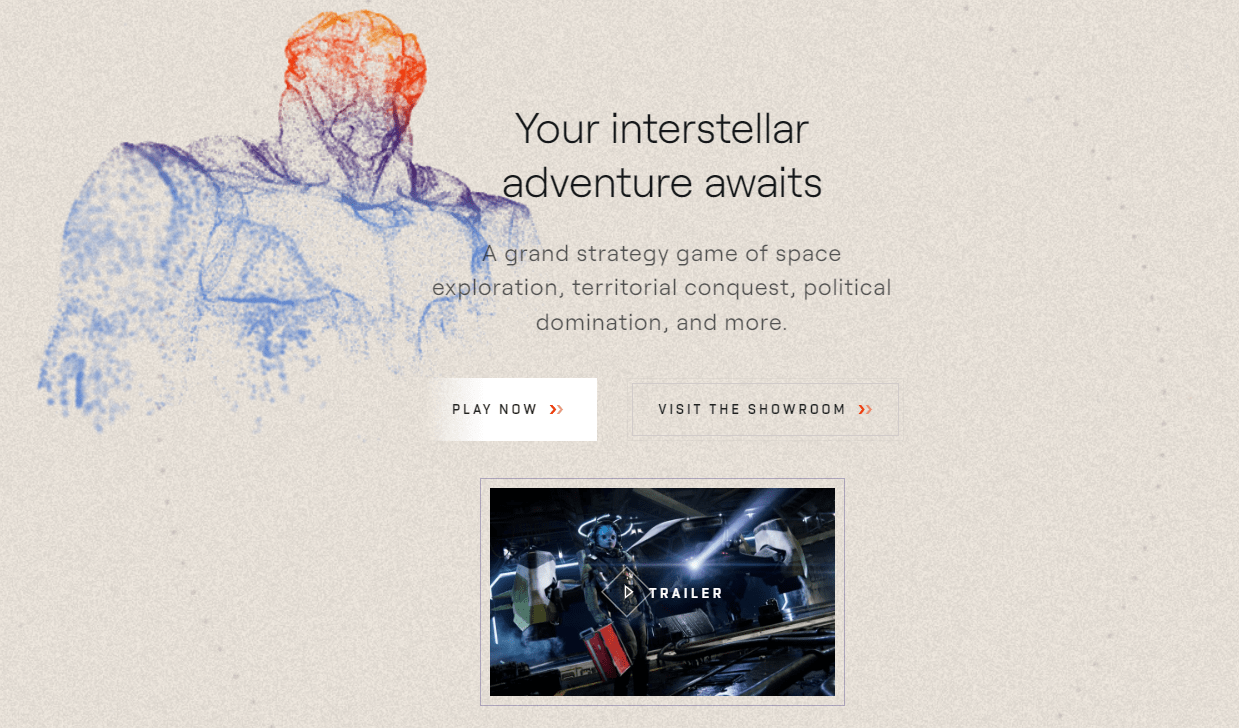 According to CoinGecko data, the governance token POLIS has a market cap of $14 million, while the payment token ATLAS has a market cap of $18 million.
Kudelski Security, the cybersecurity subsidiary of the Kudelski Group – the world leader in digital security and the frontrunner in offering security solutions for key blockchain-based apps, exchanges, and ecosystems – has been named as a security partner in this multi-pronged campaign.
Kudelski Security will conduct continuing audits and analyses to help secure the Star Atlas metaverse's integrity, and the two companies will collaborate to develop web3 security standards.
According to a joint news release, metaverse design firm Star Atlas teamed up with cryptocurrency payments infrastructure startup MoonPay last week to allow gamers to buy non-fungible tokens and the game currency ATLAS using a credit card instantly. Within the Star Atlas ecosystem, this MoonPay will be in charge of facilitating currency-to-crypto payments.
About this Metaverse Project –
The year is 2620, and there are three distinct factions: MUD, Ustur, and ONI, according to game lore. To begin the game, players purchase ships from the game marketplace. These various spaceships, each with its own collection of details, crews, and components, are essential in a player's ability to fight opposing groups and find assets spread all over the Star Atlas metaverse.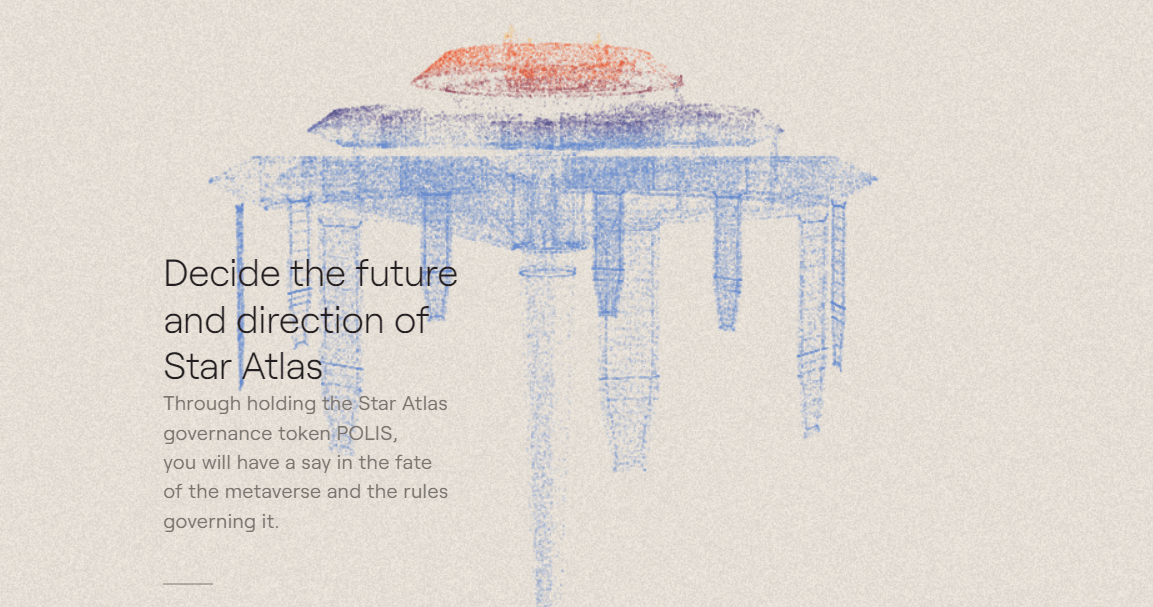 Humans rule the MUD Territory, which is known for firepower. The sentient androids rule the Ustur Sector, well known for its hull strength, and alien races rule the ONI Region, commonly known as diplomacy. Gamers choose one of the three factions, which is a permanent decision for that wallet, and then participate in Star Atlas' continuous war for its territorial conquest, space exploration and political dominance.
The Star Atlas team releases their model of gameplay in modules. By enrolling their spaceships to aid their faction's side of the fight in SCORE, players can risk their assets and gain ATLAS.
Statistics According to CoinMarketCap –
Currently Star Atlas has Market Cap $15,119,166 with 24 hr Volume at $3,290,582.
Buy Cryptocurrencies via FCA Regulated eToro Now
Your capital is at risk
9. Metahero (HERO)
Metahero (HERO) is a Metaverse crypto project that was launched in July 2021 with the goal of creating an ultra-realistic Metaverse that allows users to scan real-world things and themselves into the metaverse. The hyper-realistic and digitalized copies of real-world objects are the main attraction. Avatars can also choose to be mentalists, enchanters, assassins, and other professions.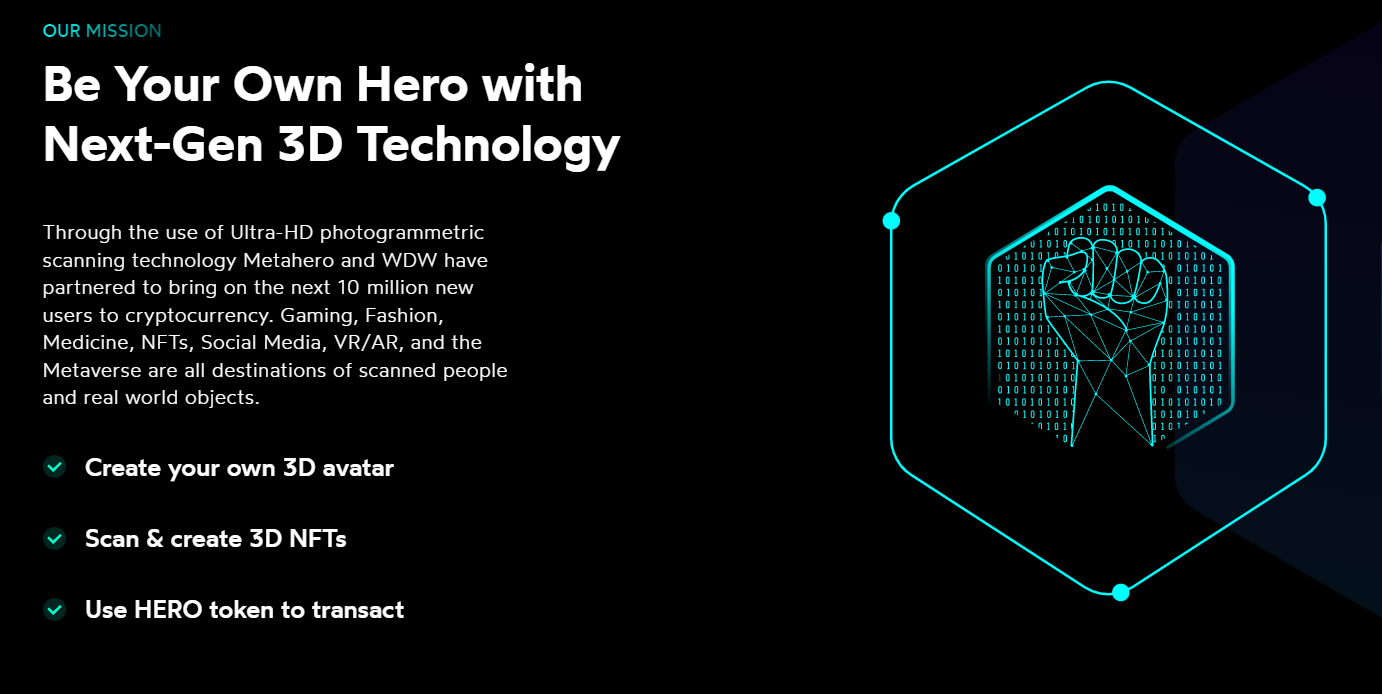 The Metahero team announced the planned land sale for Everdome on May 25th. Users that kept HERO in a non-custodial wallet with no sales or transfers out from November 25th, 2021, until the end of the land auction period may be eligible for a discount. The native utility asset of Metahero is a BEP-20 token that lives on the Binance chain. HERO will be used to pay for scanning services and engage with the metaverse, among other things.
About this Metaverse Project –
Metahero will construct 3D models of people in the digital domain using Wolf Digital World's scanning technology. Wolf Digital World is the industry leader in the 3-dimensional 16k photogrammetric scanning technology, which is used by Triple-A game companies and development teams such as CD Project, which is responsible for Cyberpunk 2077 and The Witcher series. It is now possible to connect the digital and physical worlds together with the help of 3D scanning.

Real-world items appear to take on a new, digital form. Non-fungible tokens are represented by these objects. Because the team the technological outpourings have already become famous in the fashion, music, and gaming industries, the results are incredibly realistic.
The partnership also aims to increase user interest in $HERO, Meta Hero's native token. It's an ERC-20 token that can be found on a variety of cryptocurrency exchanges, including KuCoin, Gate.io, PancakeSwap and others. If you are a beginner, use Bitcoin smart to trade Bitcoin with confidence.
Everdome is Metahero's Metaverse, and it has its own unique coin called DOME. Everdome is a Metahero project, and its DOME token raised $9 million in its presale, demonstrating the project's strong community support.
HERO is available on PancakeSwap, OKX, LATOKEN, Gate.io, and other such platforms.
Statistics According to CoinMarketCap –
Currently Metahero has Market Cap $55,993,184 with 24 hr Volume at $4,195,840.
Buy Crypto via FCA Regulated eToro Now
Your capital is at risk
10. Enjin
Enjin is a project of a company that provides a blockchain-based gaming environment with multiple goods. Enjin's primary product is the Enjin Network, a social gaming platform that allows users to create websites and clans, chat, and run virtual item stores. It allows game producers to tokenize in-game assets using the Ethereum blockchain.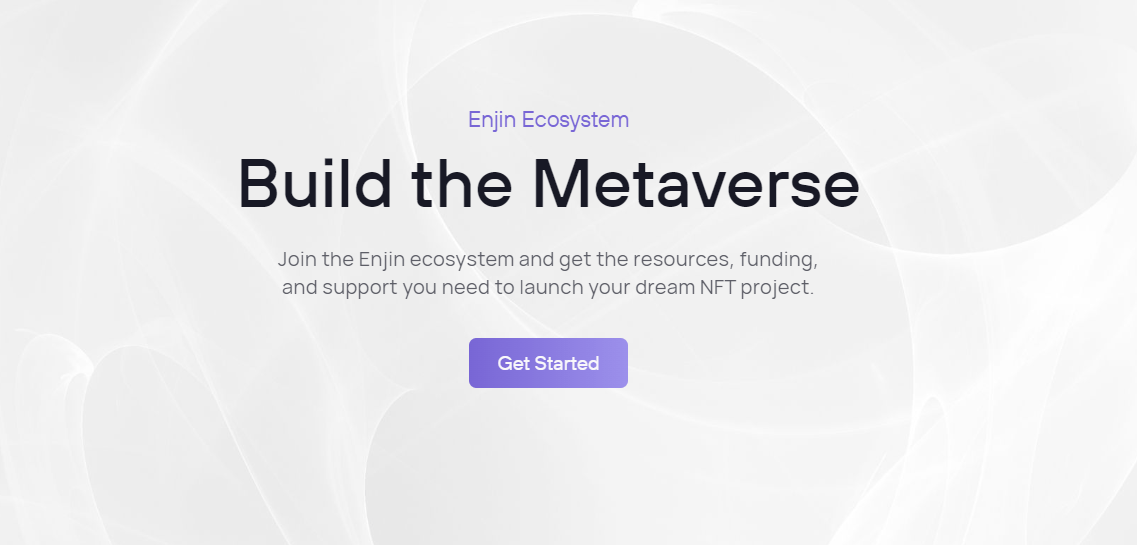 Though the Enjin project has been around for a while, it was first introduced in July 2017 and launched on the Ethereum mainnet in June 2018. The ecosystem is powered by Enjin Coin (ENJ), an ERC-20 compatible token that can be purchased, sold, and traded with real-world money using any Ethereum wallet.
Enjin's main goal is to be able to integrate into any game or application. Builders of games and apps, in particular, can benefit from adopting ENJ as a payment currency or leveraging Enjin's technological stack to construct and integrate NFT functionality. Enjin-issued products can also be cross-ecosystem compatible, serving many uses in different games and marketplaces.
About this Metaverse Project –
Every asset created with the Enjin Platform contains ENJ, a minting resource that is locked inside NFTs and withdrawn from circulation.
The way forward is to make it easier to create, distribute, store, trade, and integrate tokenized digital assets. These assets will become increasingly important in the development of Web3 and metaverses, among other verticals. It also lays the way for a more comprehensive gamified approach to the blockchain industry and all of its benefits. The platform allows users to create websites, storefronts, forums, and in-game modules, among other things.
Over the years, several games have included Enjin or Enjin Coin. Space Misfits, 9Lives Arena, The Six Dragons, War of Crypta Nestablesh, and other titles are among them.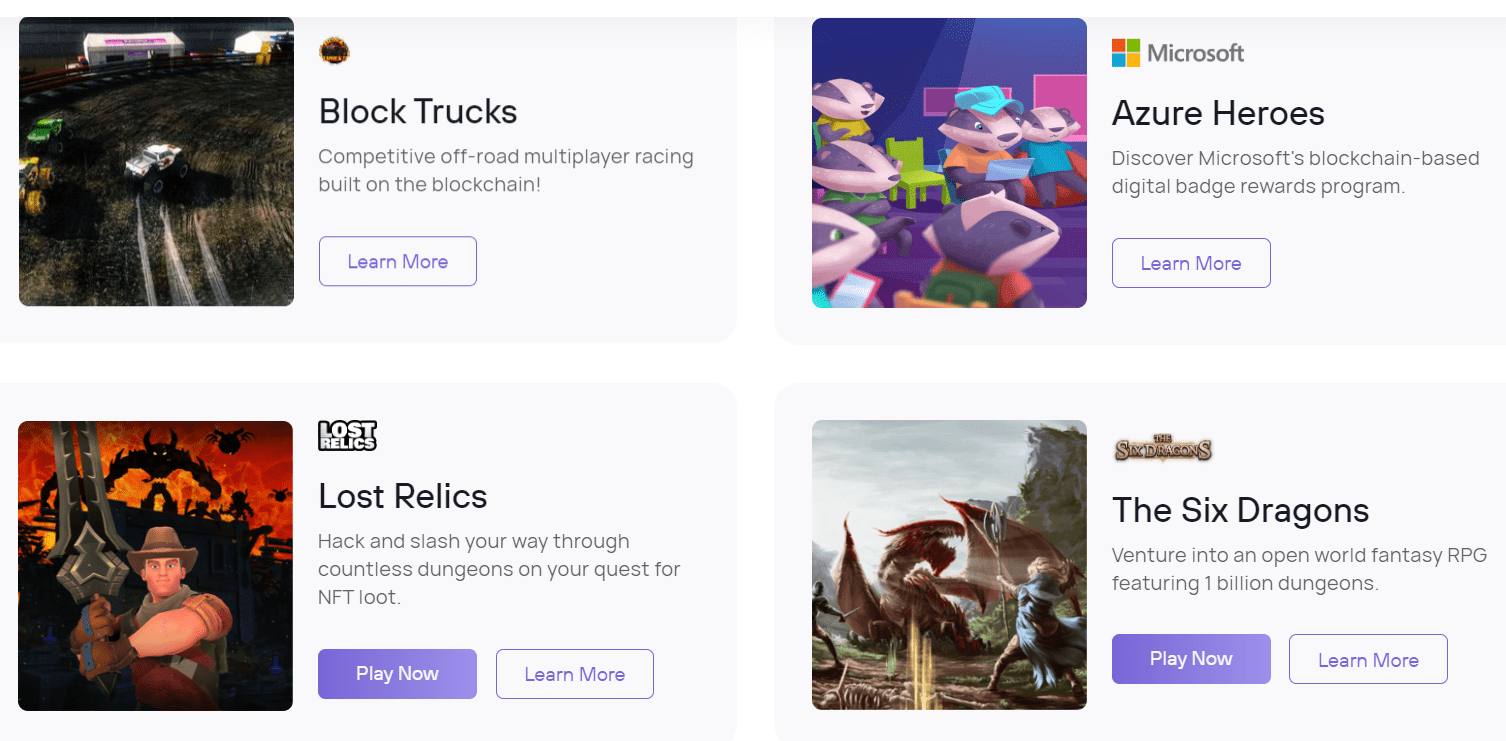 Decentralized finance (DeFi) is a new financial system based on distributed ledgers that are secure. By allowing users to store their assets in secure digital wallets, it was intended to eliminate banks and financial organizations as central mediators in various financial transactions.
Enjin's attraction is obvious, but it is up to users and builders to take this ecosystem to the next level. Enjin's overall growth has been phenomenal, thanks to its user-friendly technology stack. Enjin Coin (ENJ) has had a slower uptake, depending on how the data below is interpreted. Despite this, ENJ already has approximately 500,000 users, which is a significant milestone for the project. Surprisingly, the trend of new account creation is slowing.
Since December 2021, the progress has slowed, and May 2022 does not appear to provide much hope. On most days, there are less than 200 new accounts, which isn't a lot.
However, ENJ whales are extremely rare. Only 98 locations own more than a million ENJ, worth over $700,000. Most users hold more than 100 ENJ but less than 10,000 tokens. There are almost 173,000 wallets with a balance of more than 0 ENJ, accounting for about 35% of all Enjin Coin wallets.
If the bullish trend continues, Enjin Coin (ENJ) is anticipated to reach $4.7 by 2023. The climb will most likely be gradual, but no significant declines will occur. With planned partnerships and improvements, hitting $5 is a stretch, but it is undoubtedly possible shortly.
ENJ is an Ethereum-based cryptocurrency used to back the value of NFTs. Its primary features include trust, which allows users to melt their NFTs back into ENJ at any time, authenticity, which is demonstrated by the ENJ contained within the NFTs, and tangibility, which means that every NFT supported by ENJ is generated with something of value and may be destroyed at any moment.
Enjin Coin is unlike any other cryptocurrency, especially the most popular ones. This is a compelling incentive to invest in ENJ because it is unique in the market. It's very useful for fans of NFTs.
Statistics According to CoinMarketCap –
Currently Enjin Coin has Market Cap $478,439,195 with 24 hr Volume at $63,974,354.
Buy Enjin Token via eToro Now
Your capital is at risk
11. Moonbirds NFTs
Moonbirds is another intriguing NFT project to keep an eye on. Moonbirds is a 10,000-item NFT collection with over 9,000 avatars developed by PROOF.
In late April, they debuted their main collection, which was an instant success. Jimmy Fallon and Beeple were among the very first owners of the Moonbirds collection. PROOF Collective has raised approximately $500 million in funding, with more than $200 million raised in the first 48 hours of its public offering.
Long-term holders have membership access and other benefits. The pixelated NFTs have a wide range of distinct characteristics. From the ease of your wallet, you can nest as well as lock the NFTs. Once nested, these NFTs begin to gather rewards and then upgrade their nests to new and advanced tiers once they have 'nested.' nesting is a brand-new Moonbirds feature.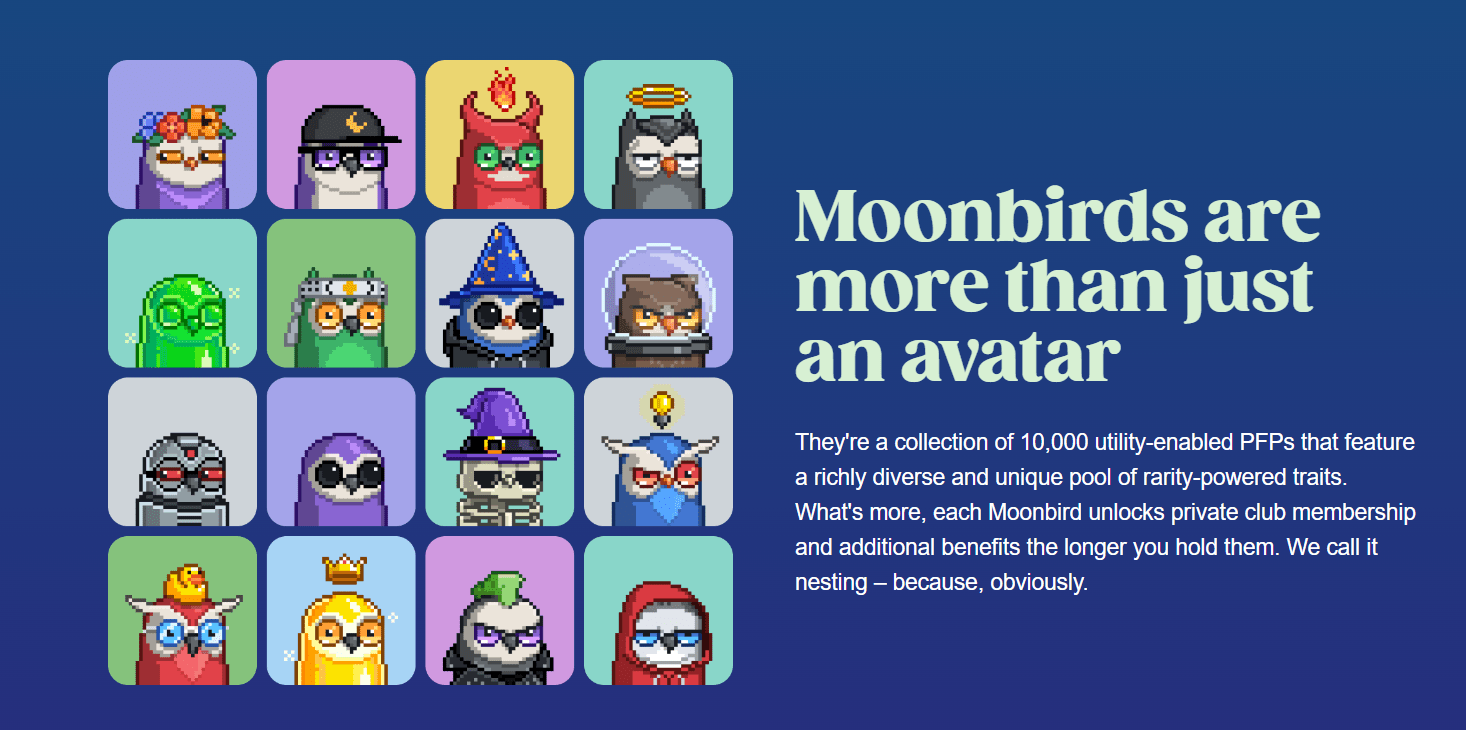 Moonbirds was one of the biggest launches we've ever seen in the NFT business, generating about 275 plus million dollars in trading volume in just two days, credits to the initial mint and secondary purchases. After a few weeks, the number was 470 million dollars approximately.
These blue-chip NFT – Moonbirds are the most popular NFTs in terms of market capitalization, and they are also minimum volatile. Moonbirds, the only collection that grew by 22%, was the only one to do so. It's worth mentioning that the market capitalization of Moonbirds plummeted.
About this Metaverse Project –
Moonbirds was formed with two main objectives in mind – functionality and community. Each Moonbird NFT serves as a unique and private key to access the channels' private PROOF Discord. You will have first access to Moonbird-related drops, Parliament gatherings, in-person events, and ongoing PROOF projects.
Kevin Rose, a software founder and currently a partner at VC firm True Ventures, founded the PROOF Collective, an NFT-based membership club. Rose is a well-known NFT collector who made his PROOF podcast converted into a closed community that only NFT members have access to. It offers access to events, free NFT drops, material, and other benefits to the NFT holders.
Project Highrise is the current name for the PROOF metaverse. The money from the sale of Moonbirds will be used to help create the metaverse.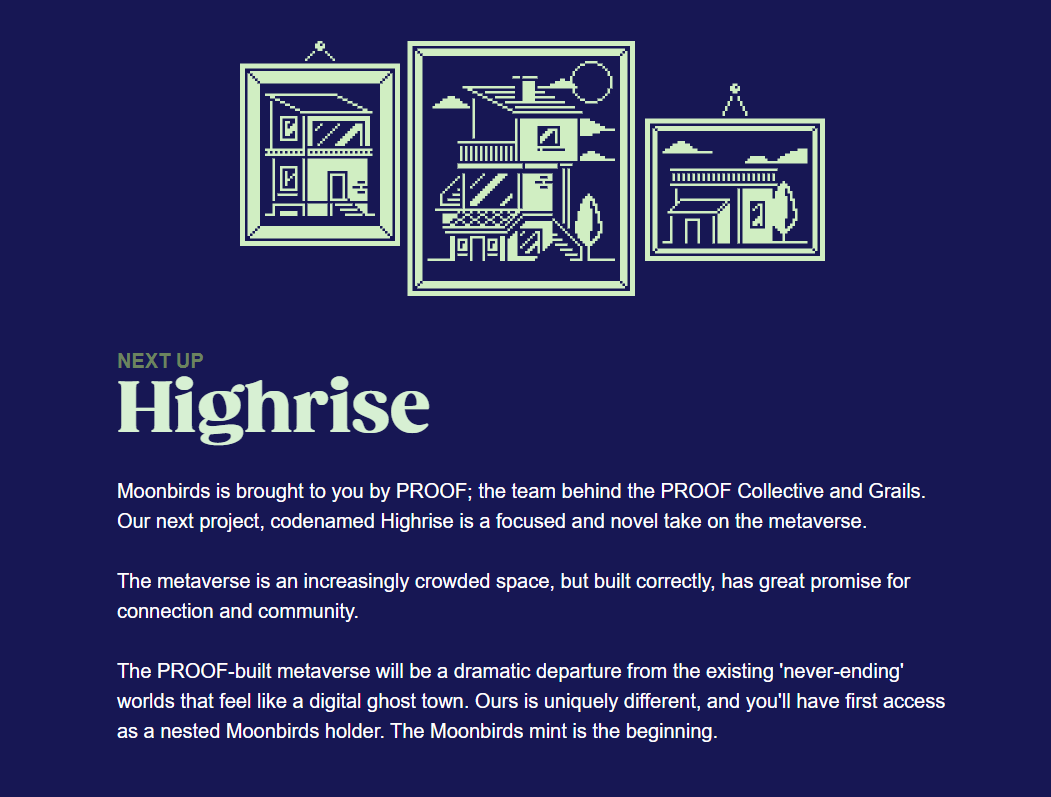 In essence, the project seeks to become another blue-chip picture for proof (PFP) venture, but it also offers Moonbirds owners a slew of other benefits. Aside from its utility, each Moonbird is designed to grant access to a private club, with more perks accruing as time passes. This last part is referred to as nesting.
Holding a Moonbird grants access to an NFT-integrated Discord server. The users of Moonbird will have access to private channels once inside, which will include access to info on future drops, nesting, Moonbird community events, etc.
Following the project's successful debut, two key decisions were made by those involved with it. Alexis Ohanian, whose Seven Seven Six firm invested $10 million in PROOF as it scaled its media and community initiatives, has joined as an investor. After creating an NFT investment fund named 121G and buying Moonbirds on the secondary market, Proof COO Ryan Carson left.
Statistics According to CoinMarketCap –
Currently, Moonbirds 24 hr Volume at $71 and Moonbird Price (MBIRD) at $0.004945.
Buy Ethereum for Moonbirds NFTs Now
Your capital is at risk
What is the Metaverse – How Facebook Started The Trend
The mainstream media and the world in general started talking about the Metaverse when Facebook rebranded and changed their name to Meta (and the parent company to Meta Platforms).
According to venture entrepreneur Matthew Ball, the metaverse is a persistent, online environment that creates a blur or hazy lines between actual reality and virtual reality. The metaverse is an online ecosystem that exists 24 hours a day, seven days a week, and is inhabited by economics that rewards a new grid of artists and infrastructure suppliers. It's more than just a Call of Duty game. This economy is unique in that it is built on interoperable in-game resources.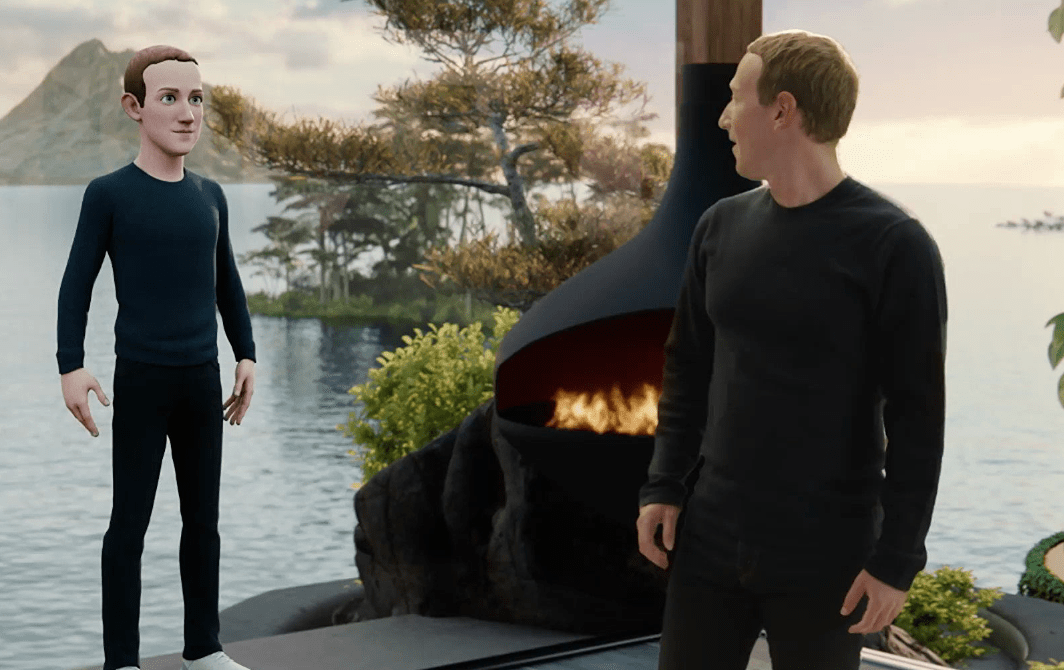 While Mark Zuckerberg's Meta has its own set of ideas about the meta and metaverse, as we say, the cryptocurrency social community feels that this blockchain technology is a perfect fit for this special e-ecosystem. Crypto games like Decentraland and The Sandbox contain early ideas for a creator-led, cryptocurrency and NFT-powered economy.
Here is what one can do in the Facebook metaverse right now:
Virtual Reality (VR) Experiences
Put on a virtual reality headset, such as the Valve Index, HTC Vive, or maybe even Meta/Oculus Quest, and enter cyberspace. Meta is working on a plan action of creating a social hub for its virtual reality headsets, and here, Steam's VR software includes a very own pre-installed virtual dwelling.
Well, now, what is VR Chat, and how is it different from Meta? VR Chat is a pre-crypto game in which you can enter a room full of people wearing virtual reality headsets and choose an outfit and dress up yourself as whichever avatar/ model/ role you like.
Meta, on the other hand, wants to strengthen its Horizon Worlds tracking and targeting. By definition, that is not a part of the "metaverse." That means it will gather much more information on users than current Meta's huge surveillance system, including the biometric data on the real-world body's most intimate attributes. Another was for body-tracking equipment, which could be used as an input controller and collect data on users' positions or other physical data.
A third patent would allow Meta's clients to "sponsor the appearance of an object" in a virtual store. These features would allow Meta to track your moods and behaviours, as well as tailor your metaverse experience to elicit the most profitable answers for its business model. In the current version of the Facebook app, the targeted response is "engagement" – reading, clicking, buying, or otherwise interacting with a piece of content.
How Facebook May Win the Meta Game
According to a number of studies, Facebook/Meta had continuously optimised for engagement over time, even when that engagement was with potentially dangerous information. This could indicate significantly more emotional influence over Meta's users than is currently the case.
Meta's machine-learning models of individual biometric response data have the potential to have a significant impact on user behaviour across the internet, not just in Horizon Worlds. Even Google, whose revenue comes entirely from adverts (80%), has a much broader range of products. There is no Meta equivalent for Android, the Play Store, or Chromebooks. Its diversification attempts have consistently failed and been mishandled. Its acquisition of Instagram, which ended in acrimony with the founders, was perhaps its most significant expansion success.
Top Metaverse Tokens and NFTs to Invest in Today
Metaverse NFTs, based on upcoming technologies, has done successfully so far in 2022, promising cheaper pricing and increased efficiencies.
People anticipate that such NFTs will continue to gain popularity in the near future. Everyone appears to be talking about the metaverse and NFTs, which exist in a parallel universe. New NFT trends develop in the market every day. This makes it nearly impossible for investors to keep pace with trending NFTs. On any of the platforms below, you may easily track their performance and forecasts.

eToro Platform offers more than 60 Cryptocurrencies to trade
To purchase NFTs, you'll need Ethereum or Solana, depending on whose blockchain you're using. Starting your journey by adding credit to your wallet can be done with the help of eToro. Following your purchase, you can begin trading on platforms like as OpenSea and Crypto.com.
The most popular platform for selling, buying, and trading NFTs is OpenSea. It is, however, helpful for more than just seeing a large collection of digital art. OpenSea is a useful NFT application for keeping track of and analyzing your digital art investments, as well as figuring out how to make them better.
You can also check Crypto.com, which is also an excellent corresponding marketplace to OpenSea for selling, buying and trading into NFT projects.
Where to Buy the Top Metaverse Tokens?
1. eToro
eToro, a registered multi-platform that debuted in the financial markets in 2007, is at the top of our list of the best locations to acquire any token of any metaverse in 2022.
If you go with eToro, you will be able to buy any NFT with no spread. This means you won't have to pay traditional commissions; instead, you will be charged a fee based on the difference between the buy and sell price of the token when you place an order.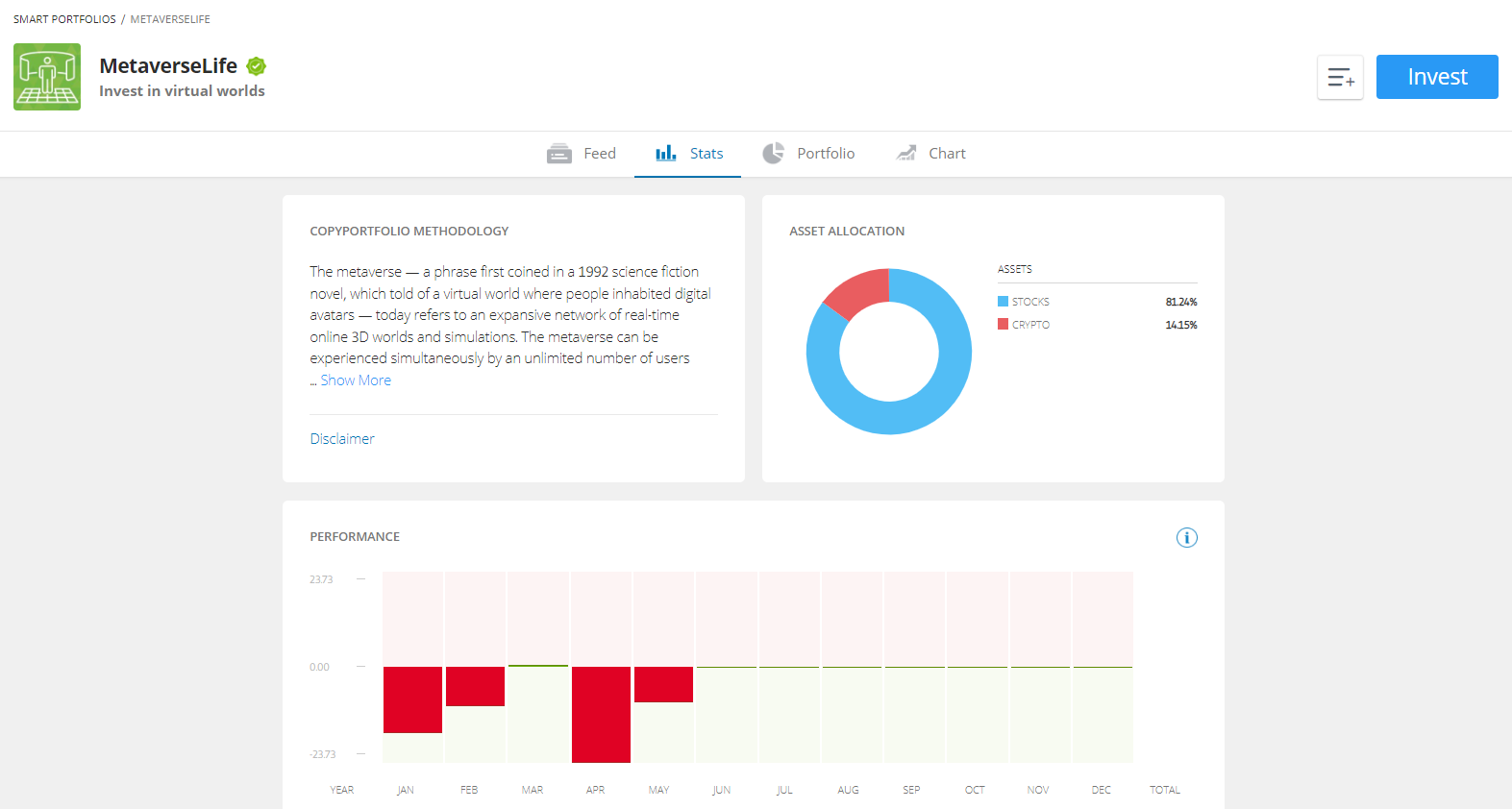 The Metaverse Life Feature on eToro for Buying and Investing in Metaverse Tokens
One of the advantages of buying crypto with eToro is the ability to deposit fiat currency in the form of USD. The minimum deposit on eToro is $10. You will not be charged any deposit costs in this circumstance. E-wallets like Skrill, PayPal, and Neteller can be used for depositing funds.
You can also deposit money using a bank transfer or a VISA, MasterCard, or Maestro credit card.
We also consider eToro one of the best platform to buy Ethereum because of its low trading costs and clear pricing structure. The platform allows you to see all the costs that will be applied to your investment before you click the "Buy" button.
Visit eToro Now
Your capital is at risk
2. Crypto.com
Crypto.com is another great place to get Ethereum and other metaverse tokens such as Apecoin.
Crypto.com is one of the most popular and largest cryptocurrency exchanges in terms of trading volume as of 2022. It provides users with a cost-effective way to invest in crypto assets through its simple-to-use platforms. Like eToro, it is a well-regulated cryptocurrency exchange.
This entails going through and completing a lengthy verification process. After that, you can use your debit card to buy tokens. The exchange, which aims to accelerate the acceptance of cryptocurrencies worldwide, accepts MasterCard and VISA. Beginner traders and investors can take advantage of free trading for the first 30 days after becoming customers.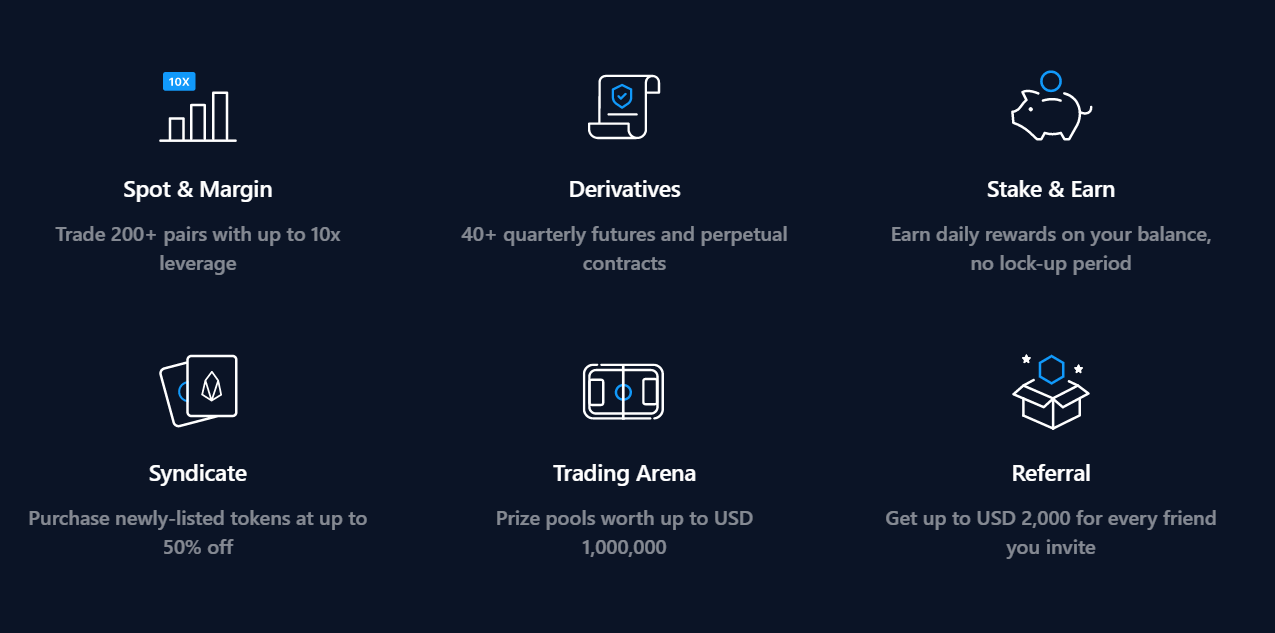 You can earn interest on your cryptocurrency assets that are sitting idly by using the Crypto.com "Earn Tool." A crypto.com mobile wallet, which supports over 100 cryptocurrencies, is also available.
Crypto.com also serves as an NFT Marketplace, allowing users to invest in various digital items using ETH and SOL. If you buy various tokens with Crypto.com, you will join a community of over 10 million other people who have done so.
You would never encounter any slippages due to the exchange's daily trading volume of billions of dollars.
Visit Crypto.com Now
Your capital is at risk
Conclusion
We hope you found this list of the top Metaverse projects helpful. It's easy to see why investors are eager to support the next big metaverse initiative after triumphs like Decentraland (MANA).
The crypto market's bearish trend appears to have affected all tokens, with the exception of some tied to the metaverse arena. In a recent report released by Kraken Intelligence, it was brought to investors' attention that Metaverse token prices have skyrocketed by about 400 per cent year on year, despite the fact that the other rest of the market has collapsed.
Tokens such as SAND and MANA, tied to the Sandbox and Decentraland Metaverse projects, are used to purchase products within those platforms and have real-world utility. That utility is vital to look for when researching the best metaverse projects to invest in.
Related
Lucky Block – Our Recommended NFT for 2022
New NFT Game Platform
Featured in Forbes, Nasdaq.com, Yahoo Finance
Worldwide Competitions with Play to Earn Rewards
10,000 NFTs Minted in 2022 – Now on NFTLaunchpad.com
3.75 wBNB Floor Price
Free Exclusive Entry to Daily NFT Prize Draws
Lifetime Access to the Main Lucky Block Prize Draw
$1 Million NFT Jackpot in May 2022
LBLOCK Token Up 1000%+ From Presale
Cryptoassets are a highly volatile unregulated investment product. No UK or EU investor protection.