Best Crypto to Buy Now June 6- AiDoge, Kava, Inu
Join Our Telegram channel to stay up to date on breaking news coverage
The Apple VR headset is finally here. The iPhone maker is gearing up to tap into the vast metaverse opportunities. In the meantime, shocking market behavior greets investors as the bear market prediction takes a deeper dive. 
Since our last update on the best crypto to buy now, a lot has changed in the cryptocurrency market. The global cryptocurrency market cap is down 3.7% to $1.09 trillion. However, trading volume rose by 75% over the past 24 hours. DeFi still sweeps a bigger portion of the crypto trades, with a 7.5% trading volume over the last 24 hours.
Still, on the global market, Bitcoin dominance dropped by 0.05% in the last 24 hours and has quickly lost its gains of yesterday. The BTC price sank by 3% in 24 hours. Surprisingly, the giant coin has consistently mounted pressure in its resistance lines several times in the past few weeks. We may see a breakout in the coming days. 
Best Crypto to Buy Now
While the crypto market endures a bearish run, investors should look toward small-cap coins. Alternatively, opting for a presale coin may be a good idea, especially in this period of gross uncertainty. For one, these coins are relatively cheap and are yet to be on any exchanges. Therefore, investors take on minimal risk by investing in them. In that light, investors are welcome to take another look at our list of the best cryptos to buy now. Our list features a blend of small-cap coins with excellent profit potential and presale coins making the news and gathering momentum. Top on our list is AiDoge, Kava,
1. AiDoge (AI) 
It's about 14 days before the claims and launch date of the foremost AI-powered meme platform, AiDoge. It initiated its project with a view of revolutionizing the way creators generate and interact with memes. Still, on its way to fulfilling its values, the team behind the meme coin continues to gear up for the big day. After raising $14 million in just four weeks, the AiDoge team channeled its energy toward creating awareness and gaining support for its upcoming launch. 
As a result of its publicity moves, the community, the AiDoge Army, increases almost daily. Its Twitter page now boasts 35.5k followers. With such many raving fans, AiDoge might be one of the best cryptos to buy now. Being a meme coin, AiDoge tends to tilt towards a fun way of gaining visibility.  
Discover the potential #AiDoge! 🌟💎

You can stake, earn $AI tokens, and vote for the best memes on our public wall.

Secure your spot now before our CLAIM & LAUNCH on June 19th! 😎🚀

👉 https://t.co/PzNuuRW5Rn#Crypto #Web3 #AiDogeArmy pic.twitter.com/XlF9iCnctB

— aidogecrypto (@aidogecrypto) June 5, 2023
In the meantime, the AiDoge community awaits feedback about its listing on Coinmarketcap. The team announced a few days ago that it had applied to Coinmarketcap. Also, pending the launch, AiDoge broadens its utility to include voting and other community activities.  Visit AiDoge presale. 
2. Kava (KAVA) 
Kava is up by 12%. Despite the bearish market, we're witnessing this period, Kava has demonstrated resilience in its price pressure. The bull has the upper hand over the bear at the moment. However, is KAVA the Best cryptocurrency to buy now? The answer would stem from a brief analysis of its performance over the coming days. However, in the last seven days, this is the second time KAVA is testing its resistance. 
A few days ago, It closed in on its 30-day high and returned in a sharp dip. Considering its price trend,  KAVA might break out and establish new support in the coming days. The current rise in price might continue throughout the week and even the month. For one, KAVA RISE is gaining traction. In addition, the platform is pushing funds into its Rise platform to increase its user base. 
15,000 KAVA in bribes will be added to Equiibre pools!

5,000KAVA bribes added to wKAVA/axlwBTC pool5,000KAVA bribes added to wKAVA/ axlUSDC pool,5,000KAVA bribes added to axlUSDC/USDC pool,

Grab them today – bribes end Wednesday 00UTC! pic.twitter.com/WmPox4oDs8

— Kava (@KAVA_CHAIN) June 6, 2023
As of March this year, it committed nearly a billion dollars to developer incentives to create activity on its network. Even though incentivized growth is a questionable strategy, KAVA still presents a viable solution within the crypto ecosystem. First, its project will fill the gap that Ethereum missed out on in speed and scalability. KAVA is a coin to watch. It might become the next Solana If it fulfills its value proposition and gains more traction. 
3. Inu (INU) 
The Inu token is pumping. However, it didn't start pumping until a few hours into the day. The price tanked a bit before it recovered and went on a bullish run like no other. It gathered an intense momentum that pushed its price as high as 133% at about midday to set its first all-time-high price. We may likely see more highs before the day ends as the coin is still mounting pressure on its resistance and pulling further away from its support. 
After its launch yesterday, the coin has enjoyed an intense bullish run from investors as most investors are going bullish on the coin. Inu may be the best crypto to buy now due to its consistent price gains since its launch. It is one coin to keep an eye on in the market as its price today outperforms the market multiple times. Interestingly, traders are speculating it could become the next Pepe. 
However, the chance of this happening depends on some factors. First, the utility and demand for Inu play a big role in its future. Right now, it has established it is an ERC-20 token built on the Ethereum network. Likewise, the coin shares a relatively upward trend in the meme coin category. From the start of the year, meme coins have enjoyed visibility due to celebrity engagements. For example, Shiba Inu, the predictor of the Inu token entered a bullish run due to Elon Musk's tweet about meme coins. Is Inu the best coin to buy now? Currently, the coin is not showing any sign of relenting. It may be the best time to jump on board. 
4. Launchpad XYZ (LPX) 
Launchpad XYZ has raised over $900k. It announced to its community recently that it just achieved this new milestone with the help of its growing community. As a rule, the time it takes to achieve its hard cap target often influences the performance of a coin in the market. The surprising feat came despite the bearish moves across the entire crypto sector. Even more interesting is the announcement that a new stage of presale launch is aimed at reaching a hard cap of $1.5 million. 
💰 Another incredible milestone achieved 🎉$900,000 RAISED

Massive thanks to our trusted community ❤️

Let's pave the way to the future of #Web3

Join our mission today ⬇️ Be the alpha with Launchpad https://t.co/yYq4jnPZiL pic.twitter.com/tPHmgqhG9O

— Launchpad.xyz (@launchpadlpx) June 5, 2023
Launchpad XYZ is a project that aims to create a robust tool for web3 users. The aim is to help users navigate the metaverse trend profitably. It offers trading education to beginner and intermediate traders who deal in cryptocurrency and NTFS. Besides its training programs, Launchpad XYZ also provides a terminal for traders to practice and execute their trading strategies. 
Now, crypto trading is one of the most volatile markets. Notwithstanding, it offers immense profit potential. The downside, however, is that one risk loss without proper education and a platform to execute trading strategies. Launchpad hopes to fill the gap. Considering the immense utility that a blend between education and the financial sector would provide for the LPX token, it's only safe to keep an eye on this presale as it is one of the best cryptocurrencies to buy now
5. DeeLance (DLANCE)
A few days ago, Deelance announced that it had crossed the million-dollar mark. While it may look like an everyday achievement for BTC and altcoins investors, new coins hardly achieve feats of this magnitude. It attests to the potential of the coin to perform excellently in the market. The progress Brought its price to a new height of $0.038. Interestingly, the price will increase in another 12 days, and the price will likely be $0.043. Presale investors might want to consider DLANCE as the best crypto to buy now. 
We're excited to host a Twitter Space AMA with @deelance_com

🗓️ Date: June 6th at 2:30PM UTC

📍 Venue: https://t.co/5cEVZ5Z1p5

💰 Prize Pool: $200

👉 How to win?1️⃣ Join DeeLance's socials2️⃣ Ask questions in the space!3️⃣ Like & RT#Deelance #AMA #freelance #NFA #DYOR #Ad pic.twitter.com/TnXWyzq9Un

— BSCDaily (@bsc_daily) June 5, 2023
One of the selling points of the DLANCE token is its potential to disrupt the freelancing industry. As a blockchain-based freelancing platform, it promises to offer freelancers and employers immense control over their time, earnings, and offers. It's bringing decentralization into the freelancing community, taking power away from the platforms and giving it to the people. With such a value proposition, it's only a matter of time before Delance becomes a disruptor to reconnect with. 
Another interesting thing about the coin and its community is the drive for engagement. Just recently, it opened its monthly leaderboard competition intending to pull 500k $DLANCE. The challenge picks the top 5 wallets that make the biggest purchase. Agreeably, the move would help boost engagement within the Deelancer community and push the marketing even further. It's only a matter of before we know if DLANCE will become the next penny cryptocurrency to explode. Visit Deelance presale
6. Lido DAO (LDO)
The Lido DAO is a proof-of-stake liquidity staking solution. It aggregates node operators who run the underlying validation infrastructure on Solana, Ethereum, and Terra blockchains. 
The project was launched into operation in 2020 while Ethereum's proof-of-stake chain newly entered Phase 0. At that time, Ethereum allowed users to stake just on Ethereum 2.0 in any multiple of 32 ETH. Once Ethereum has been staked on the 2.0 version, it can't be bridged to 1.0 anymore.
Lido set out to solve the problem created by Ethereum's requirement of staking in 32 ETH. It also allows users to access their staked tokens' locked value via its liquidity staking innovations. This liquidity staking allows users to maintain their staking liquidity by making use of a stand-in token which can be used to earn more rewards by participating in the decentralized finance market.
The Lido project is directed by the Lido community through a decentralized governance mechanism. Participants of the governance system use the Lido DAO token, LDO. 
Lido DAO works with Ethereum but it has since implemented support for other proof-of-stake blockchains. The platform's goal is to simplify staking and decentralize it. While at the same time, making it accessible to as many people as possible.  
Its steady rise makes it the best crypto to buy now in the midst of the market's volatility. It also has a strong community around it that provide support to new investors who might just be learning the ropes.
7. ApeCoin (APE)
ApeCoin is currently trading 12.46% higher today at $3.18. Its market capitalization is $1 billion and its trading volume in the last 24 hours stands at $164 million. It also has a current circulation of 370 million tokens.
Recent times have found new use cases and expressions for the APE token in Web3. These expressions come through gaming, arts, events, and entertainment. There are now endless possibilities for the impact of the blockchain on culture. At this point, they cannot all be predicted. 
The APE token supports just what's next. But it has to be controlled and built upon by the APE community. It serves as a decentralized protocol layer for initiatives that are led by the community and drive the metaverse culture.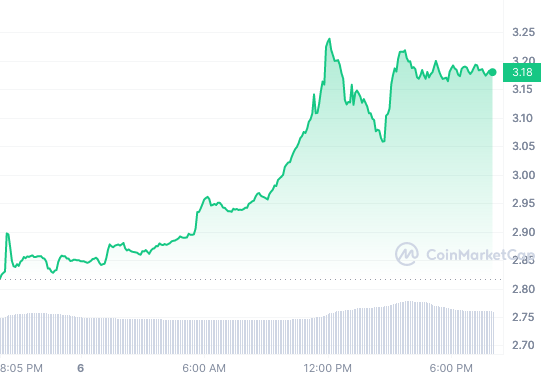 As for the APE token itself; it is an ERC-20 utility and governance token used in the ecosystem. One of its main purposes is to empower the decentralized community while building Web3 innovations. 
Being the ecosystem's open-source protocol, ApeCoin has a number of purposes which include governance, unification of spend, access, and incentivization.
Investors would be interested in buying ApeCoin because of its history and pedigree. Its consistent position on the market chart and at the forefront of innovation makes it the best crypto to buy now. The asset can also be bought here.
8. Optimism (OP)
Optimism is rising this week and living to the expectation of its name. The price jumped by 10.38% to now sell at $1.49 in the last 24 hours. Its current market capitalization is $962 million while it has seen trading volume worth $626 million in the 24 hours.
It is an L2 blockchain built on Ethereum. The platform benefits from the security of Ethereum's mainnet and it helps to scale Ethereum's ecosystem with the aid of Optimism rollups. It has become one of Ethereum's largest scaling solutions with more than $300 million total value locked.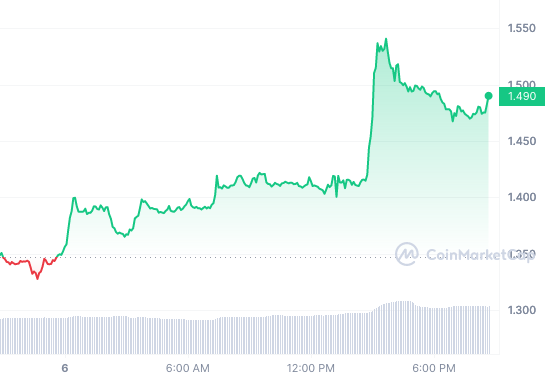 The Optimism platform is led by what is known as the Optimism Foundation which is a nonprofit. It is dedicated to the growth of the ecosystem. Furthermore, it has a goal of reducing the number of moving parts while it builds the L2 solution for Ethereum.
Optimism comes 50th on the global crypto watch, CoinMarketCap with regard to its market capitalization. Analysts have come up with an overview of the OP price prediction for the rest of the year. On the high side, they say the price could get as high as $2.007 and as low as $1.29 in the worst-case scenario. This gives a lot of hope to investors who have been looking for a safe place to invest their spare funds. The best crypto to buy now is Optimism's OP token.
Read More
Wall Street Memes – Next Big Crypto
Early Access Presale Live Now
Established Community of Stocks & Crypto Traders
Featured on BeInCrypto, Bitcoinist, Yahoo Finance
Rated Best Crypto to Buy Now In Meme Coin Sector
Team Behind OpenSea NFT Collection – Wall St Bulls
Tweets Replied to by Elon Musk
Join Our Telegram channel to stay up to date on breaking news coverage