5 Next Cryptocurrency to Explode – May 2022 Week 3


The cryptocurrency market has dropped a little in the past 24 hours. At $1.34 trillion, its total cap is down by 1.9%. Most major coins have fallen by similar percentages, with some falling harder in the past day. However, the longer the bear market continues, the more certain contains are likely to resurge strongly when conditions improve. As such, here's our selection of the 5 next cryptocurrency to explode.
5 Next Cryptocurrency to Explode
1. Bitcoin (BTC)
When in doubt, flee to the relative safety of BTC. That said, it's down by nearly 3% in the past 24 hours, and by 4% in the past week. It's also down by 25% in the last 30 days.
BTC's technical indicators show just how subdued the cryptocurrency has been in recent weeks, and how it's due a rebound. Its relative strength index (RSI) sank as low as 10 on May 9, highlighting how the market is overselling it. It's currently middling at around the 50 level, hinting at a possible return to form.
Depending on how you look at it, the past week was beneficial for BTC. That is, the collapse of terraUSD (UST) inflicted a big loss on BTC, as Terra sought to sell its BTC reserves to prop up the price of the doomed stablecoin. Yet this loss had nothing to do with BTC's fundamentals, meaning that the cryptocurrency is massively undervalued right now.
It's also worth pointing out that bitcoin continues to attract more real-world use than pretty much any other cryptocurrency. The Central African Republic became the second nation to make it legal tender last month, after El Salvador. Meanwhile, it has enjoyed increasing usage in countries experiencing extremely high inflation, such as Turkey, as well as in situations where access to traditional currencies is difficult (such as in Ukraine).
Such actual usage distinguishes BTC from cryptocurrencies that seem to have only 'internal' application. This is why BTC is first on our list of the 5 next cryptocurrency to explode.
2. Polkadot (DOT)
At $10.40, DOT is down by 7% in the past 24 hours. It's also down by 8% in the past week and by 41% in the past month.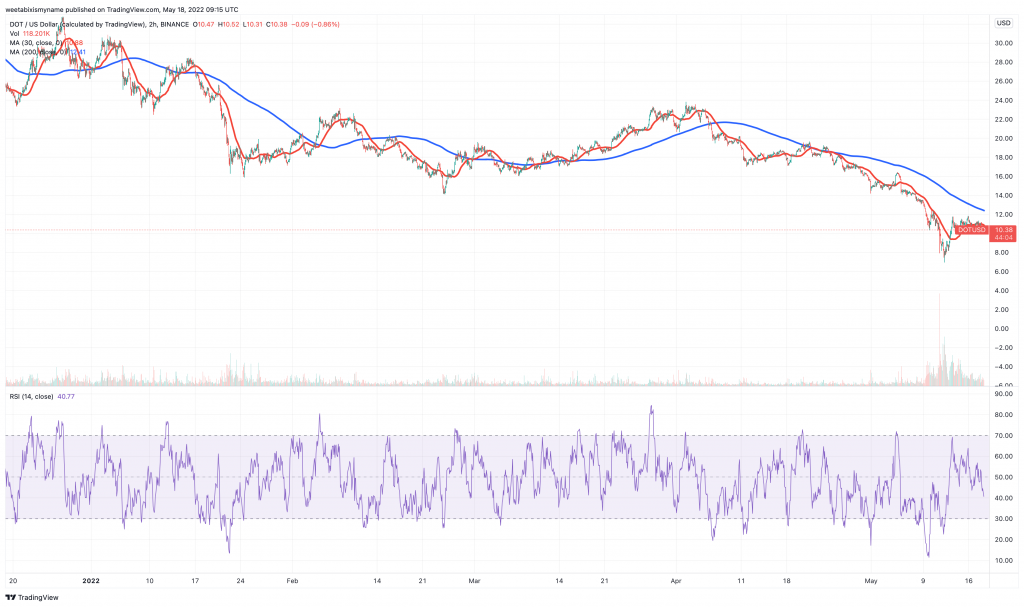 DOT is another significantly undervalued coin. Its indicators show that it's still on a downtrend, with its 30-day moving average (in red) now sinking further down from its 200-day average (in blue), after having shown signs of a recovery a few days ago.
Despite DOT's misfortune in recent weeks, its fundamentals are good. It's a highly scalable layer-one blockchain platform that has been building out its network in recent weeks. It's designed as the central hub of separate interconnected and cross-communication blockchains, known as 'parachains' in its parlance. In recent months, it has been holding auctions for parachain slots, with the 16th such auction recently finishing.
Congratulations to @polkadex on winning Polkadot's 16th parachain auction!

Polkadex is creating a fully decentralized platform for exchanging tokens in a peer-to-peer trustless environment, and it will be onboarded at the beginning of lease 8. pic.twitter.com/WLqR0z5Uek

— Polkadot (@Polkadot) May 9, 2022
As part of its development, Polkadot also launched its XCM messaging system. This is a key component of its multi-chain architecture, and shows that it's close to reaching a critical mass.
After passing community vote, v0.9.19 has been enacted on Polkadot. This upgrade included a batch call upgrading Polkadot's runtime to enable parachain-to-parachain messaging over XCM and upgrading #Statemint to include minting assets (like NFTs) and teleports. pic.twitter.com/uqIB5di2Q1

— Polkadot (@Polkadot) May 4, 2022
3. Fantom (FTM)
FTM is down by 5%, dropping to $0.344912. It's also down by 35% in a week and by 69% in a month.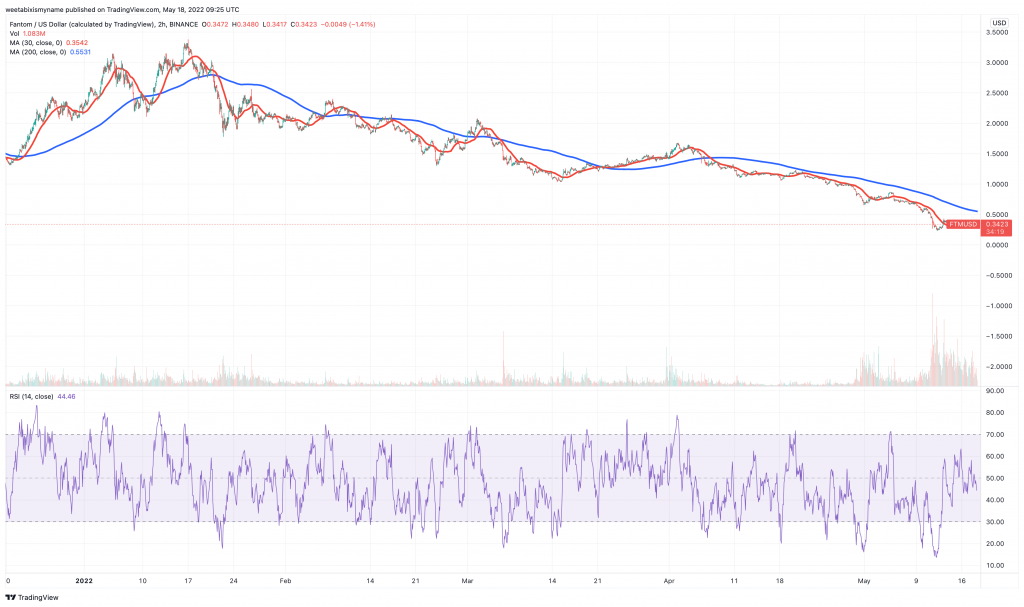 As with the rest of the market, FTM is experiencing an indecisive period of falls and false starts. Its RSI is just under 50, while its 30-day average remains below its 200-day. This suggests it hasn't turned a corner just yet, but may do in the near future.
A layer-one blockchain, Fantom currently accounts for just over $1.69 billion in total value locked in, making it the eighth-biggest DeFi platform in the cryptocurrency ecosystem. It's likely to grow further in the future, with the Fantom Foundation having launched a $480 million developer fund at the end of March.

Launching a $480m grant program!

After successfully disbursing 35m+ FTM to projects innovating on Fantom, the incentive program is evolving!

With @gitcoin Grants, Fantom will strengthen funding support for a growing array of projects, big or small.https://t.co/dKx3Q3GZpd pic.twitter.com/hZkkDIvjlD

— Fantom Foundation (@FantomFDN) March 31, 2022
Its native token, FTM, has fallen by 90% since reaching a record high of $3.46 in October. This is a dramatic drop considering how big the Fantom ecosystem is, and we expect the coin to regain its lost ground sooner or later. This is why it's one of our 5 next cryptocurrency to explode.
4. Decentraland (MANA)
MANA is $1.16 right now, representing a 5.5% drop in the past 24 hours. This also represents a 4% rise in the past week, but a 43% drop in the last 30 days.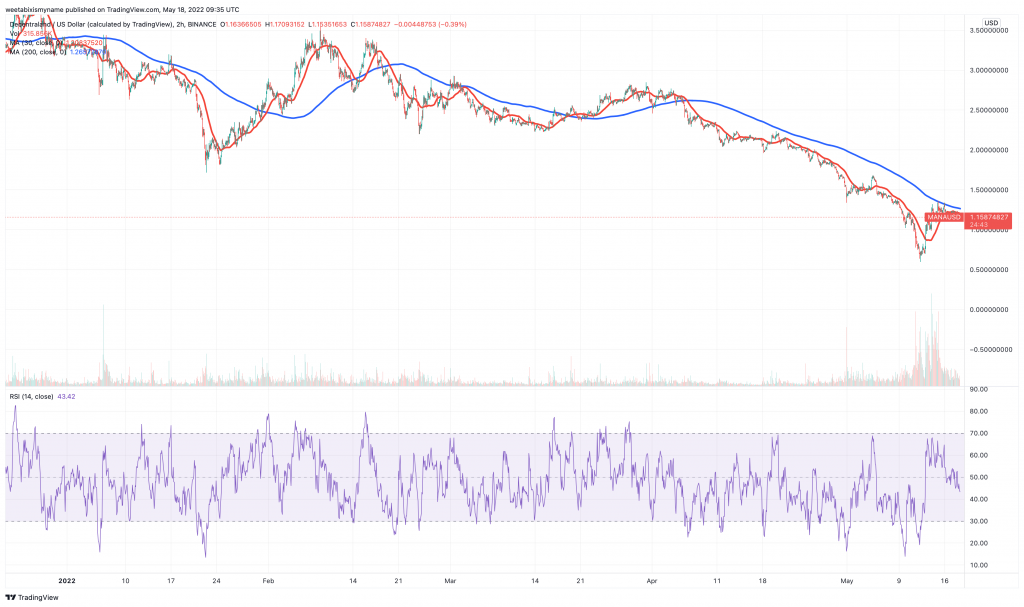 MANA is 80% down from its all-time high of $5.85, set back in November. In other words, it's also very undervalued in relation to its fundamentals.
In particular, its native platform Decentraland has witnessed good news on a regular basis this year. For example, it hosted the first-ever metaverse fashion week in March, with just over 100,000 unique visitors attending to see exhibits from the likes of Selfridges, Dolce&Gabbana, Hogan and Chufy.
In February, JPMorgan opened a virtual lounge in Decentraland, while it also released a paper arguing that the metaverse presents many business opportunities.
JP MORGAN IN DECENTRALAND???

YO??? pic.twitter.com/gpha2ohhrf

— 🏝nathanhead.eth🏝 (@NathanHeadPhoto) February 15, 2022
Samsung is another major name to have entered Decentraland this year. Such interest underlines why the platform is one of the most promises metaverses in crypto, and why MANA is one of our 5 next cryptocurrency to explode.
If you have a quest badge, show love by blowing kisses in the #837X Sustainability Forest in @decentraland to trade it for the Valentine's Day wearable.

No badge? There is still time to earn it today! https://t.co/qiDrYuH71U pic.twitter.com/Ih13igZSwI

— Samsung US (@SamsungUS) February 14, 2022
5. Ethereum (ETH)
ETH is down by 2.5% in the past 24 hours, at $2,036. It's also down by 13% in the past week and by 32% in the past month.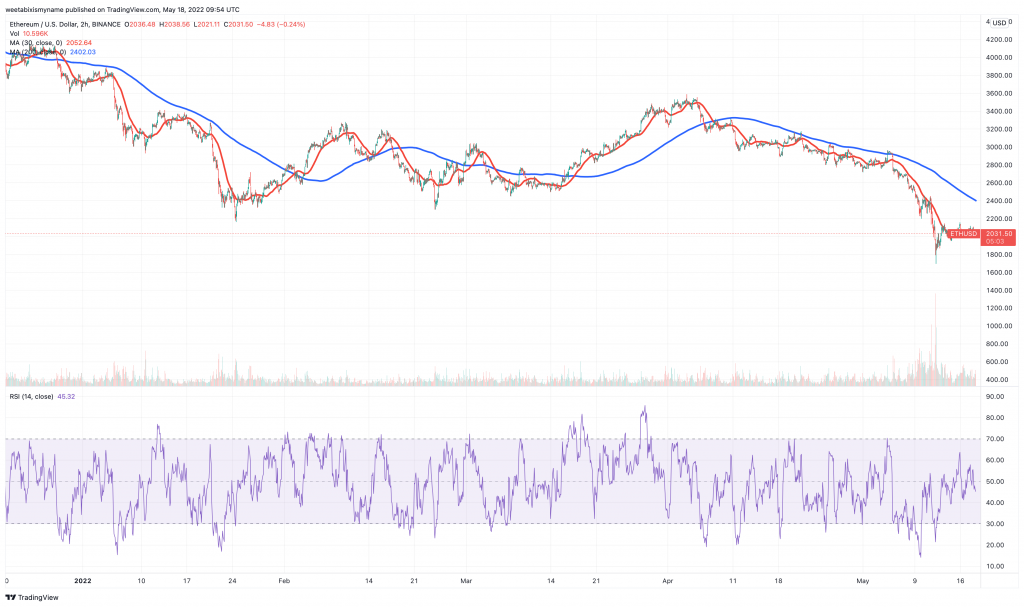 ETH is possibly the most undervalued cryptocurrency in the market right now. Its indicators are very depressed at the moment, with its RSI remaining under 50 after having sunk to nearly 10 a week ago. That said, its 30-day average has halted its precipitous decline of the past few days, and may be about to begin climbing towards its 200-day average.
ETH is due to explode at some point this year. That's because Ethereum is in the process of shifting to a proof-of-stake consensus mechanism. This will make it less energy intensive and, over time, more scalable.
Given just how long the transition has taken, its successful completion will massively boost investor confidence in Ethereum. This result in a big jump in demand for ETH, while staking should result in a supply squeeze. And with 10% of ETH's supply already staked on the PoS Beacon Chain, the cryptocurrency could even become deflationary. This is why it's one of our 5 next cryptocurrency to explode.
Capital at risk
Read more: