5 Cryptocurrency to Buy for Price Boom This Weekend – May 2022 Week 3

The cryptocurrency market is holding tight after a difficult few days. Its total value has risen by 4% in the past 24 hours, from $1.236 trillion to $1.287 trillion, according to CoinMarketCap. Bitcoin (BTC) has led this little jump, with other major coins also rising by similar — or larger — amounts. But with the overall market still down from the highs of last year, and from the recent Terra collapse, there's still plenty of room to rebound. We've therefore compiled a list of 5 cryptocurrency to buy for a price boom this weekend. This covers coins with good short- and long-term potential.
5 Cryptocurrency to Buy for Price Boom This Weekend
1. Lucky Block (LBLOCK)
LBLOCK is up by a very encouraging 76% in the past 24 hours, reaching $0.002417. It's also up by 134% in the past week and by 25% in the last 30 days.
LBLOCK is up today for one very simple reason: there'a growing expectation that its native platform Lucky Block will confirm the date for its first ever prize draw. It's holding an AMA (ask-me-anything) event today on Telegram, where it's expected that it will reveal the date. This, at least, is what a very recent tweet suggests.
AMA x Announcements x Confirmed Draw Date 🚀

When? Today (20th of May) at 4pm BST ⏰Where? Our Telegram Chat https://t.co/4MigxHlmDP

Don't miss it, set up your alarms and be ready! 🔥🔥🔥 pic.twitter.com/CkWTELuAxh

— Lucky Block 🤞 (@luckyblockcoin) May 20, 2022
LBLOCK is still down by 75% on its ATH of $0.009617, set back in February. As such, when Lucky Block does hold its first draw, LBLOCK is likely to rise strongly. This is why we've highlighted it as one of our 5 cryptocurrency to see a price boom this weekend.
Based on Binance Smart Chain, Lucky Block is a crypto games platform. It will hold daily prize draws, which users can enter by spending LBLOCK. Entrants will have the chance to win 70% if each draw's fund, while all holders of LBLOCK will receive an equal share of 10% of the same fund. That it's very close to its first draw has been suggested by recent updates, with the platform's app approaching readiness.
2/ 👉 iOS app will be resubmitted to app store tomorrow with feedback implemented 📲

👉 Android beta app update is available on Google Play ✅

— Lucky Block 🤞 (@luckyblockcoin) May 16, 2022
2. The Sandbox (SAND)
SAND is up by 10% in the past 24 hours, reaching $1.30. This represents a fall of 12% in the past week, and of 57% in the past month.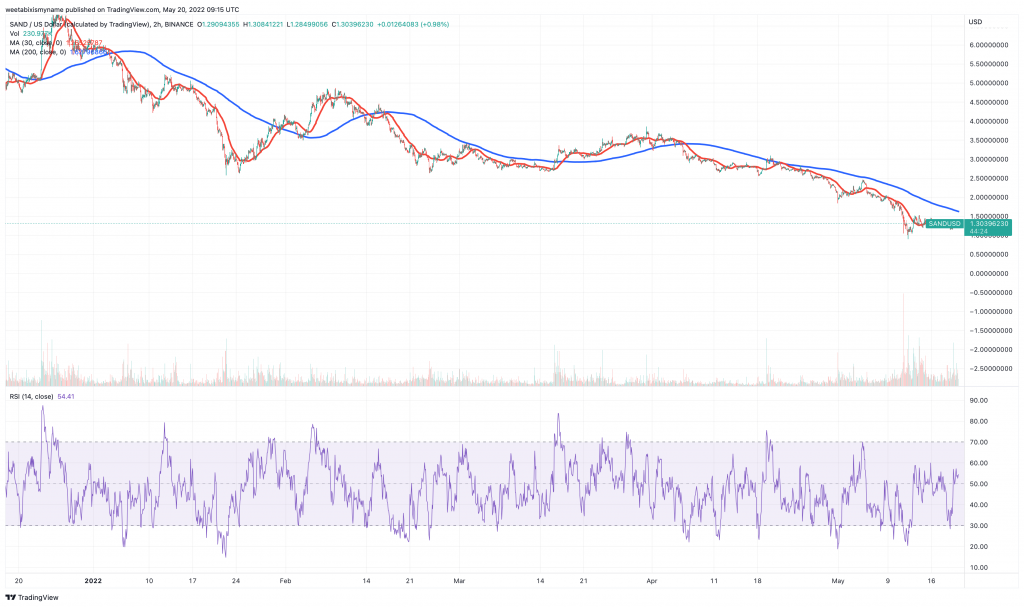 SAND's indicators suggest that it may be beginning a rebound after a difficult few weeks. Its relative strength index (in purple) has risen from 30 to around 55 in the past few days, signalling an improvement in momentum.
And as one of the most fundamentally sound coins in the whole Web3/metaverse space, SAND really should rebound strongly sooner or later. Most notably, its native platform, the Sandbox, racked up around $350 million in sales of virtual land in 2021, more than any other similar platform.
It also continues to announce new partnerships and launches. This includes a recent teaming up with UK band Jamiroquai. Not to mention other partnerships with World of Women, Atari, Gucci, Snoop Dogg and banking giant HSBC.
The #metaverse is about to get a little funkier…🎶

Welcome @JamiroquaiHQ to #TheSandbox, where they will provide a communal place to digitally connect with fans and fellow music lovers!https://t.co/GQSz8HLpK1 pic.twitter.com/tsPwm9fkWd

— The Sandbox (@TheSandboxGame) May 18, 2022
On top of this, the Sandbox also recently launched a $175m fund for investing in projects in its ecosystem. This will ensure that it's in a prime position to begin rallying again once the market picks up.
It's important to support creators from every corner of the world 🗺️

We're so proud to be investing in studios from Hong Kong 🇭🇰, Japan 🇯🇵, United Kingdom 🇬🇧, France 🇫🇷, South Korea 🇰🇷 and many more!

Studio teams have grown from exponentially through our support 📈 pic.twitter.com/gI3XbS5V45

— The Sandbox (@TheSandboxGame) May 17, 2022
3. Fantom (FTM)
At $0.3451, FTM is up by 10% in the past day. It's also down by 13% in the last seven days, and by 71% in the last 30.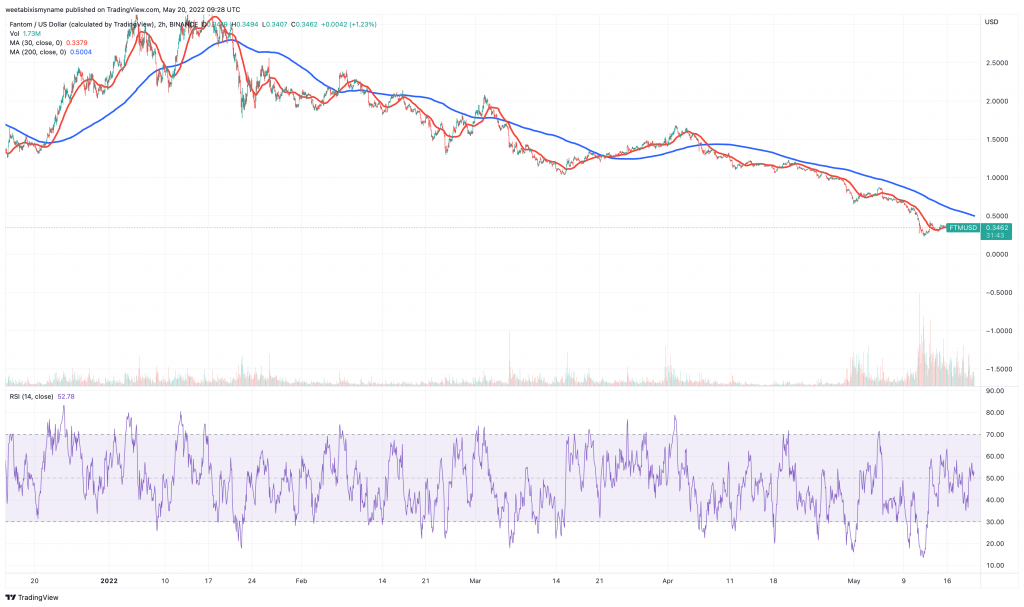 FTM is another coin that has been so grossly undervalued by the recent selloff that, eventually, it can only rise. Its RSI shows a recovery in momentum, from under 20 just over a week ago to more than 50 today.
A layer-one blockchain, Fantom currently accounts for just over $1.58 billion in total value locked in, although this stood at over $12 billion during more favourable market conditions. Regardless, its former level shows just how strongly it has grown in recent months, with the platform's scalability being one of its greatest strengths.

4/

This asynchronous processing means greater throughput and scalability.

With Fantom averaging 900k transactions per day, the data quickly adds up. #Snapsync allows nodes to use a pruned version of the chain to begin validating much faster.

— Fantom Foundation (@FantomFDN) May 19, 2022
The Fantom Foundation also launched a fund worth $480 million that will award grants to developers building on the blockchain. As with the Sandbox, this should ensure its future growth. And it's one more reason why we've added FTM to this list of 5 cryptocurrency to see a price boom this weekend. Particularly when the coin has so much lost ground to recover.
Launching a $480m grant program!

After successfully disbursing 35m+ FTM to projects innovating on Fantom, the incentive program is evolving!

With @gitcoin Grants, Fantom will strengthen funding support for a growing array of projects, big or small.https://t.co/dKx3Q3GZpd pic.twitter.com/hZkkDIvjlD

— Fantom Foundation (@FantomFDN) March 31, 2022
4. Ripple (XRP)
XRP is up by 7% in the past 24 hours, hitting $0.4311. This represents a 4% drop in the past week, and a 44% plunge in the last 30 days.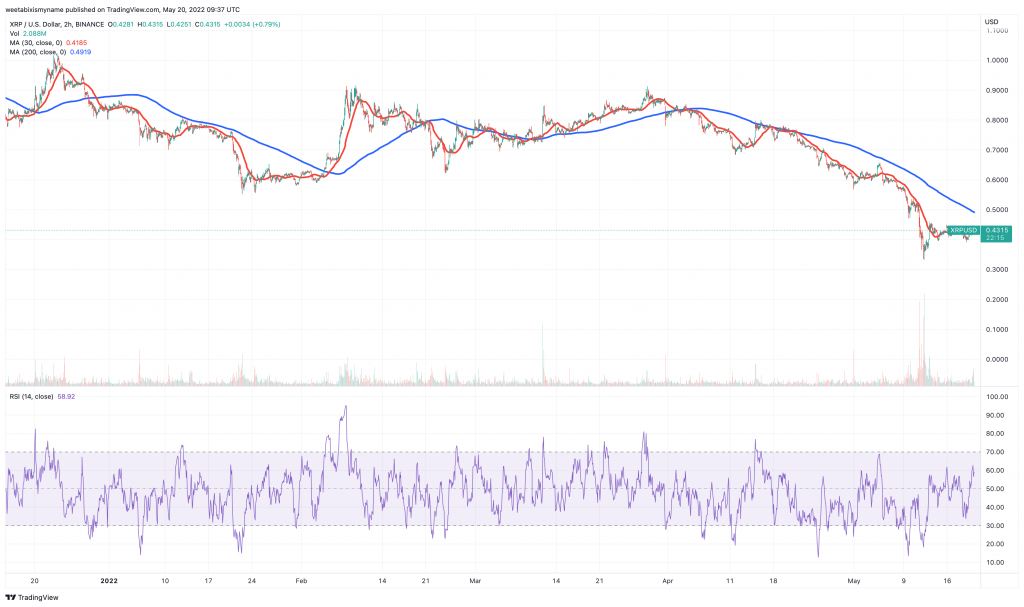 XRP's recent rise means that its indicators are recovering, signalling an improvement in momentum. As things stand, the altcoin is at its lowest level since February 2021, around the time the fallout from the SEC's then-recently initiated legal action against Ripple was being most strongly felt.
Now, XRP is suffering for poor market-wide sentiment, yet its future prospects are good as far as the aforementioned legal case is concerned. Recent months have delivered a series of positive rulings for Ripple, including a decision to uphold Ripple's right to use its fair notice defence. In other words, Ripple can argue that the SEC didn't provide it with fair warning that XRP was liable to be deemed a security, a defence which the regulator had tried — but failed — to strike down.
A judge also ordered the SEC to produce emails and docs related to a speech one of its officials gave in which he declared that ETH is not a security. This was also a big win for Ripple, and may help it secure a positive outcome.
Judge Netburn sticks to her guns on the DPP issue and re-re-re-Orders the production of the emails related to Hinman's speech.

The Order includes some uncharacteristic SEC chastising from our Judge (I'm mirroring her in stating that as politely as possible). 🙂 (1/2) https://t.co/gahWaijVqw pic.twitter.com/Di3JbQsdje

— Jeremy Hogan (@attorneyjeremy1) April 11, 2022
If such an outcome is secured, there's very little doubt that XRP will rally strongly. And given its recent falls, it may do some recovering in the meantime.
5. 0x (ZRX)
At $0.4667, ZRX is up by 30% in the past 24 hours. It's also up by 22% in the past week, but down by 37% in the past month.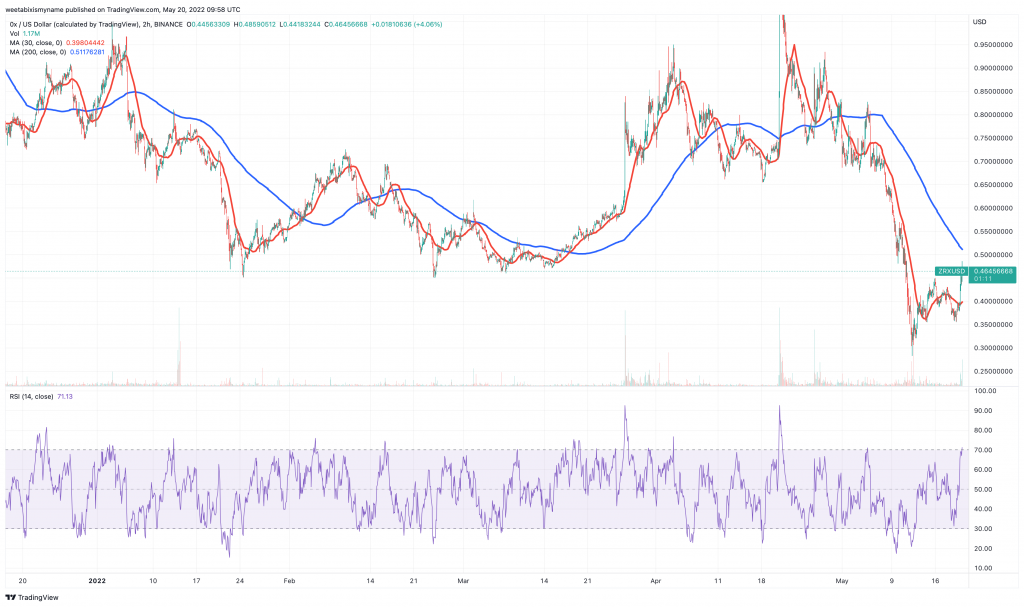 ZRX's indicators suggest a breakout rally. Its RSI has jumped to 70, and its 30-day moving average (in red) has begun climbing towards its 200-day average (in blue). It could therefore be reaching a new longer term level.
0x is a decentralised exchange for Ethereum-based ERC tokens. Prior to the recent downturn, its native token, ZRX, had been rallying, because 0x Labs has completed a $70m Series B funding round. On top of this, it announced a partnership with major US exchange Coinbase, also in April.
0x Labs has raised $70M in a Series B round led by @GreylockVC to continue expanding Web3's core exchange infrastructure 🎉https://t.co/HFch61hH42

— 0x (@0xProject) April 26, 2022
Such investment is a sign that 0X has been growing strongly in recent months. In fact, a recent tweet shows that it has facilitated 44 million trades to date, worth around $160 billion. This is a large volume for a decentralised exchange, and shows why ZRX is in our list of 5 cryptocurrency to see a price boom this weekend.
0x is trusted exchange infrastructure for the internet 🌎

Since its inception, 0x Protocol has enabled the multi-chain exchange of more than $160B in tokenized value across ~44M trades ⚡️

Let's dive into the recent growth highlighted in our latest ecosystem 🪐 update… pic.twitter.com/TEic5YjMu4

— 0x (@0xProject) May 18, 2022
Capital at risk
Read more: