5 Best Cheap Cryptocurrency to Buy – May 2022 Week 3

The cryptocurrency market is stabilising a little after TerraUSD (UST) and luna (LUNA) caused a big selloff. Its total cap now stands at $1.38 trillion, a 3% increase in the past 24 hours. It has also risen by 7% since Friday, suggesting that the market may have reached a bottom. But with most major coins well below their all-time highs from the end of 2021 (or early 2022), an incoming recovery means that many could be set to rise significantly. As such, here's a list of the 5 best cheap cryptocurrency to buy right now, with most of these still available at a significant discount.
5 Best Cheap Cryptocurrency to Buy
1. Lucky Block (LBLOCK)
LBLOCK is up by 19% in the past 24 hours, reaching $0.00130533. It's also up by 16% in the past week, but down by 39% in the last 30 days.
LBLOCK looks to be turning a corner after several weeks of decline. It may be 86% down from its February all-time high of $0.00974554, but it remains 200% up since launching in late January.
More importantly, the Lucky Block lottery platform is very close to holdings its first ever prize draw. Users will be able to enter by spending LBLOCK, giving them the chance of winning 70% of the draw's prize fund. Meanwhile, all holders of LBLOCK, regardless of entry, will receive an equal share of 10% of the same fund.
Recent news suggests that Lucky Block is indeed very close to fully launching, something which will boost LBLOCK considerably. Although it launched on Binance Smart Chain, it's about to launch an ERC-20 version of the LBLOCK token, something which will expand the token's liquidity. Likewise, it has updated its Android app and is resubmitting its iOS app, after making changes in accordance with feedback from the Apple App Store.
2/ 👉 iOS app will be resubmitted to app store tomorrow with feedback implemented 📲

👉 Android beta app update is available on Google Play ✅

— Lucky Block 🤞 (@luckyblockcoin) May 16, 2022
2. Algorand (ALGO)
At $0.494979, ALGO is up by 10% in the past 24 hours. It does, however, remain down by 15% in the last seven days and by 33% in the last 30.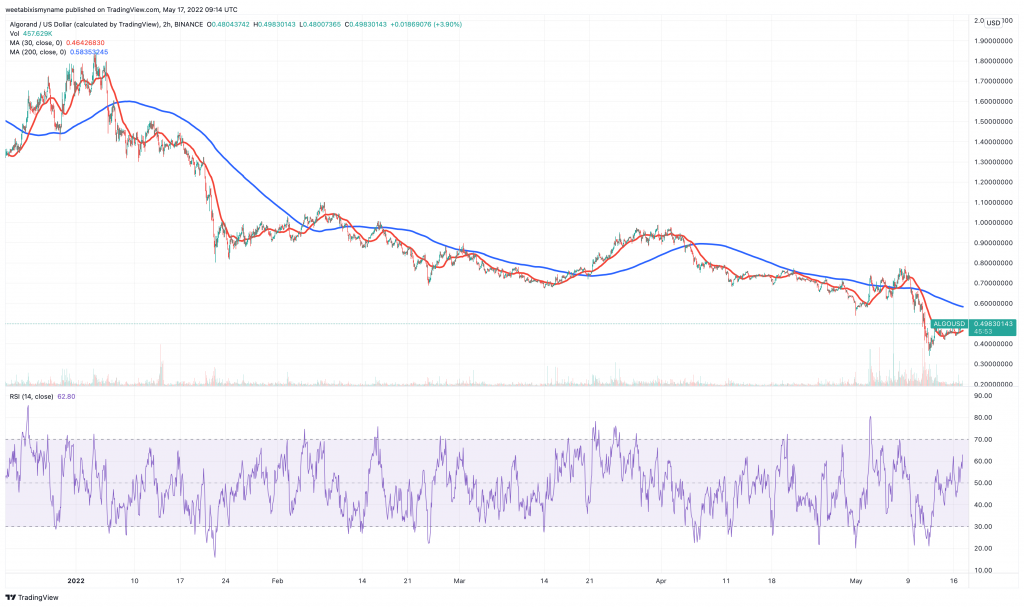 ALGO's indicators are climbing fast after a difficult period. Its relative strength index (in purple) is up to 60, suggesting rising momentum. Similarly, its 30-day moving average (in red) is rising again, with the possibility of it overtaking the coin's 200-day average (in blue) signalling the setting of a new trend.
ALGO's current rise may have something to do with Algorand and Hivemind Capital Partners jointly acquiring music website Napster. While the whole Terra situation overshadowed the announcement when Algorand initially made it, it signals just how strongly Algorand is moving into the whole Web3 space. And now, it seems like the market is catching up with the news, given how quickly ALGO's RSI has risen.
BREAKING: @HivemindCap and @Algorand today announced the acquisition of @Napster, to once again revolutionize the music industry by bringing blockchain and Web3 to artists and fans. Music industry veteran Emmy Lovell has been named interim CEO. Stay tuned for further details. pic.twitter.com/y5NEI1oiRA

— Hivemind (@HivemindCap) May 10, 2022
More generally, Algorand is a proof-of-stake blockchain that claims to be more scalable and environmentally friendly than proof-of-work chains such as Ethereum. It currently accounts for a total value locked in of $135 million, which represents an increase of more than 1,800% in the past year.
3. Cardano (ADA)
ADA is up by 5% in the past 24 hours. At $0.586259, it's down by 5% in the past week, and by 38% in the past month.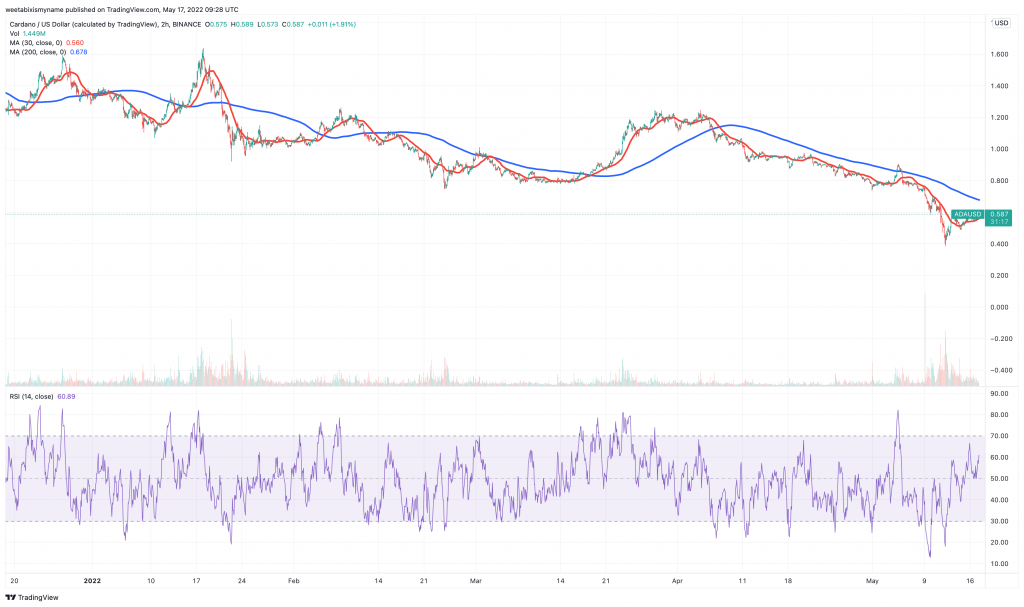 ADA's indicators also signal a resurgence, with its RSI nearing 70. In ADA's case, this recovery is due mostly to the fact that the altcoin is massively undervalued right now, having reached an all-time high of $3.09 in September 2021.
This ATH occurred around the time Cardano finally introduced smart contract capabilities. Since then, it has been gradually building out its ecosystem of dapps, which now number beyond 900.

Nearly 900 projects are currently #BuildinOnCardano 🤯And this is just the beginning…

Keeping track of all the news is quite the job and we're still working on it. But we got you covered. In this thread, we look at the latest ecosystem updates 🧵

Let's go!👇#Cardano $ADA pic.twitter.com/OSHbOIjFMq

— Input Output (@InputOutputHK) April 5, 2022
Cardano is also working with Wanchain on interoperability, something which will make it compatible with other chains, and thereby increase liquidity for its apps and ADA.
The journey continues 👍 #Cardano https://t.co/8BUj6DJzMA

— Tim Harrison (@timbharrison) April 27, 2022
4. Avalanche (AVAX)
At $34.64, AVAX is pretty cheap right now, especially when it had risen as high as $144 back in November. Its current level represents an 8.5% rise in the past 24 hours. That said, AVAX remains down by 18% in the past week and by 55% in the past month.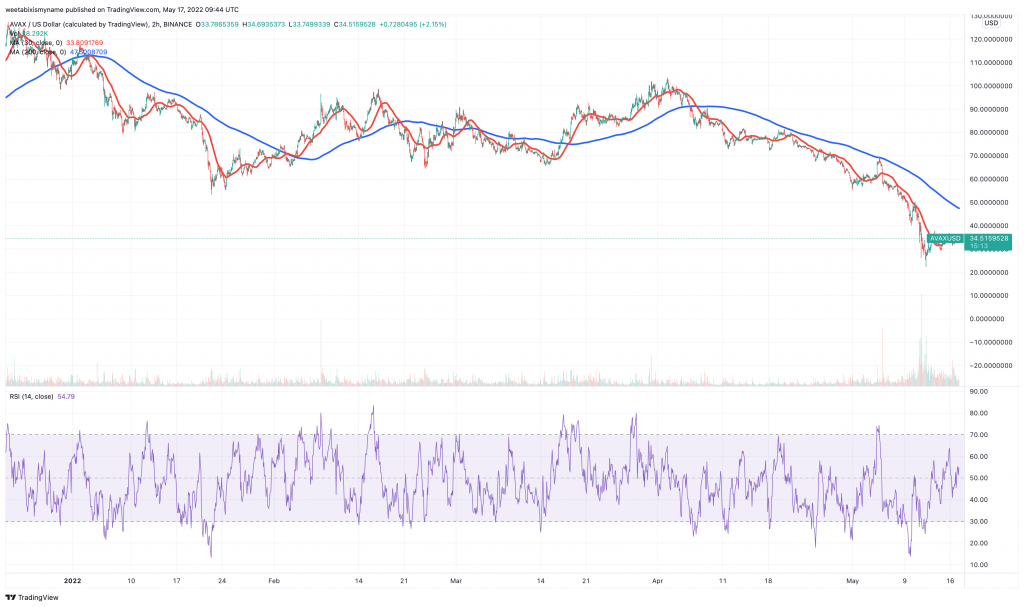 AVAX is another coin that is undervalued in respect to its fundamental value. According to DefiLlama, it has a total value locked in of $5.2 billion, making it one of the biggest chains for DeFi in the cryptocurrency ecosystem.
Ava Labs, the main developer behind Avalanche, recently raised $350 million at a valuation of around $5 billion. This comes on top of a $230 million raise from September. Together, these rounds suggest that the big money is betting on the success of Avalanche, and that the latter has the resources to grow substantially.
More recently, Avalanche established a $290 million incentive programme that will foster the development of metaverse applications on its network. This paves the way for further growth, and again, suggests that AVAX is very undervalued. This is why it's one of our 5 best cheap cryptocurrency to buy.
Introducing Avalanche Multiverse, an up to $290M incentive program focused on accelerating the adoption and growth of Subnets. Multiverse is focused on supporting new ecosystems, including blockchain-enabled gaming, DeFi, NFTs and institutional use cases. https://t.co/R5euxSV5hx pic.twitter.com/PHpET78P6L

— Avalanche 🔺 (@avalancheavax) March 8, 2022
5. Terra (LUNA)
If you're a complete risk taker, LUNA is one remote option for big gains. It has basically collapsed in the past week, with its price currently at $0.00019353. However, since reaching an all-time LOW of $0.000000999967 on May 13, it has risen by just over 18,000%.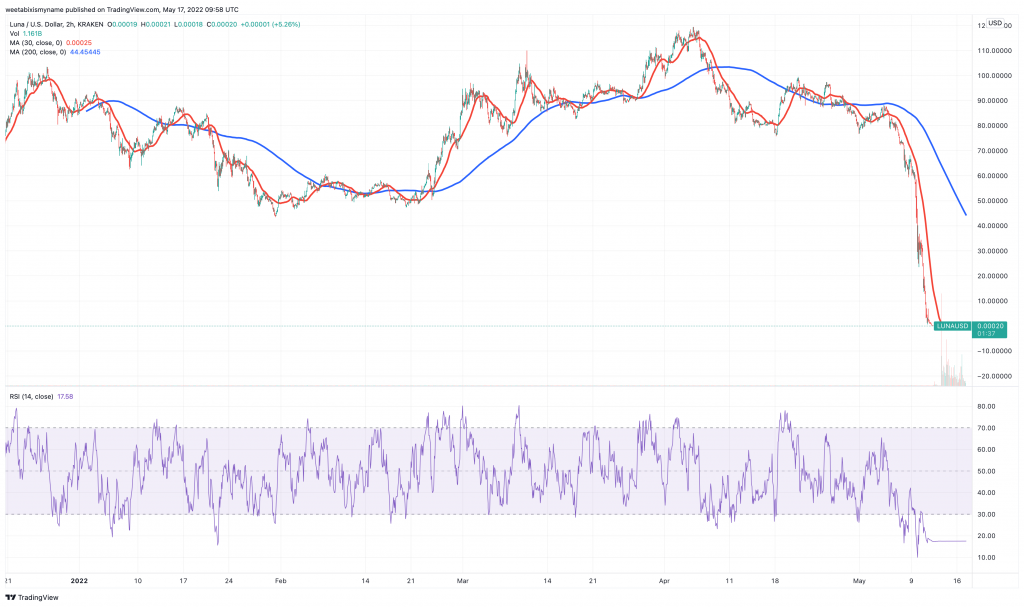 In other words, there's an outside chance that LUNA could post big percentage gains, even without returning to its former price levels. The chances of this have been strengthened slightly by Terra founder Do Kwon, who yesterday outlined a recovery plan for Terra.
6/ The Terra chain as it currently exists should be forked into a new chain without algorithmic stablecoins called "Terra" (token Luna – $LUNA), and the old chain be called "Terra Classic" (token Luna Classic – $LUNC). Both chains will coexist.

— Do Kwon 🌕 (@stablekwon) May 16, 2022
As stated above, Terra will launch a "Terra 2.0" blockchain without the UST stablecoin. Its native token will be LUNA, meaning that the latter should retain some value.
Of course, now that UST has collapsed, trust in Do Kwon and Terra may never recover. By extension, LUNA may never recover, so there's a chance that anyone taking a risk on the altcoin now may lose all their money.
Your capital is at risk.
Read more: